CPH Dean Sue Curry appointed vice chair of U.S. Preventive Services Task Force
Published on March 24, 2016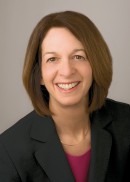 Sue Curry, dean of the UI College of Public Health and distinguished professor of health management and policy, has been appointed vice chair of the U.S. Preventive Services Task Force (USPSTF). Curry was appointed by the director of the Agency for Healthcare Research and Quality, and her term will begin in March 2016.
"We are honored to have Dr. Curry return to the task force in a leadership role," said vice chair David Grossman, M.D., M.P.H. "Her expertise in disease prevention and her experience with community-based and self-help interventions will be an important addition to the task force as we work to improve the health of all Americans."
The USPSTF is an independent, volunteer panel of national experts in prevention and evidence-based medicine. The task force works to improve the health of all Americans by making recommendations about clinical preventive services, such as screenings, counseling services, or preventive medicines. Members come from many health-related fields, including public health, medicine, behavioral health, and nursing.
Curry has been dean of the College of Public Health since 2008. She previously served as a member of the USPSTF from January 2009 to December 2014. Her many professional activities include past service as vice chair of the board of directors of the Truth Initiative (formerly the American Legacy Foundation), member of the National Cancer Institute's Board of Scientific Advisors, and associate editor for clinical practice for the American Journal of Preventive Medicine. Curry was elected to the National Academy of Medicine (formerly the Institute of Medicine) in 2010 and is a member of its Board on Population Health and a section chair.
Her research focuses on disease prevention and behavioral risk factor modification, with a primary focus on tobacco use. Curry's research in tobacco includes studies of motivation to quit smoking, randomized trials of promising smoking cessation and prevention interventions, evaluations of the use and cost-effectiveness of tobacco cessation treatments under different health insurance plans, and health care costs and utilization associated with tobacco cessation.
 More information on the USPSTF is available at www.uspreventiveservicestaskforce.org.