Diabetes prevention, management is special focus of MPHTC
Published on November 1, 2016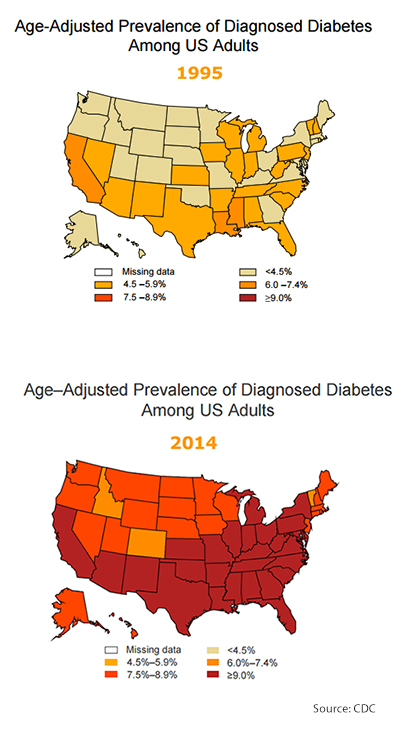 More than 29 million American adults have diabetes. Another 86 million Americans — 1 out of 3 adults — are living with prediabetes, and most don't even know they have it, according to the Centers for Disease Control and Prevention.
Prediabetes means a person's blood glucose (sugar) levels are higher than normal, but not high enough to be diagnosed as diabetes. Prediabetes can lead to heart disease, stroke, and type 2 diabetes. The good news is that prediabetes can often be reversed.
Targeting Diabetes
Diabetes prevention and management is a special focus of the Midwestern Public Health Training Center, which is housed in the University of Iowa College of Public Health.
MPHTC is one of ten regional public health training centers funded by the Health Resources and Services Administration (HRSA), an agency within the U.S. Department of Health and Human Services. MPHTC covers the four-state region of Iowa, Kansas, Missouri, and Nebraska, and helps improve public health by strengthening the technical, scientific, managerial, and leadership competencies of the public health workforce.
"Each of the regional centers was assigned a topic area, and ours is diabetes," says Tanya Uden-Holman, director of MPHTC. "This is a great opportunity to develop and share resources nationally that address the diabetes epidemic."
The center collaborated with the Association of Public Health Nurses to develop a number of diabetes-related trainings and resources for public health professionals, including the webinar series, "Confronting Diabetes: Prevention and Management." Three past webinars are archived on the center's web site.
"We've been really pleased with participation in the webinars. In fact, our second webinar had about 200 participants for the live streaming and additional individuals have accessed the archived webcast," says Uden-Holman.
The center is also hosting the Region VII Diabetes Summit that will provide the latest information on the diabetes epidemic, how evidence-based programs are working to reduce the epidemic, and the roles key stakeholders play in prevention and control of diabetes. The summit will take place Nov. 18, 2016, at the John and Mary Pappajohn Education Center in Des Moines. (Learn more about the Diabetes Summit.)
Supporting Student Internships
Another of the center's objectives is to support internship projects for students enrolled in a Master's level public health program. During the 2015-16 academic year, the center offered 20 paid internships to students in Iowa, Kansas, Missouri, and Nebraska.
University of Iowa student Laurel Tuggle recently completed an internship with the Iowa Department of Public Health in the Chronic Disease Prevention and Management Bureau.
"My project was to increase awareness of prediabetes, screening for prediabetes, and referrals to the National Diabetes Prevention Program (NDPP) in Poweshiek and Tama counties," Tuggle wrote in her field placement report.
Tuggle, a Master of Public Health student in community and behavioral health, conducted outreach in the Grinnell area at the library, grocery store, farmers market, and other community events, as well as meeting with local health professionals to raise awareness about prediabetes and the NDPP.
"I gave a presentation about prediabetes and the NDPP to the Grinnell Kiwanis and communicated with major employers in the area about providing NDPP coverage to their employees," Tuggle continued.  "In Tama County, I facilitated collaboration between the Meskwaki Health Clinic and the Marshalltown YMCA/YWCA."
Next Steps
The center has also begun networking with other campus and community groups focused on diabetes, including the Fraternal Order of Eagles Diabetes Research Center at the University of Iowa, to see how they might leverage resources.
Additional diabetes-related projects on the horizon include developing content targeted at community health workers and expanding relations with tribal health centers.
To learn more about the Midwestern Public Health Training Center, upcoming events, and available resources, visit www.mphtc.org.