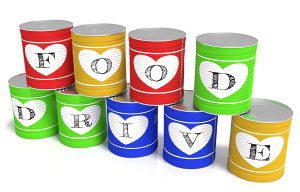 'Tis the season to support CommUnity's Food Bank (formerly the Crisis Center). Drop off your donations in the bins located around the main stairway in CPHB by noon on Friday, Dec. 13.
As always, departments are challenged to a friendly competition to see who can gather the most donations.
On Dec. 15, International Blues Champion Kevin Burt will join HomeBrewed in playing a benefit concert at The Mill supporting the CommUnity Food Bank's Project Holiday, providing meals to over 1500 families in need. Buy tickets here. 
Top Ten Needed Donations
1. Financial Donations
2. Canned Fruit in Juice
3. Peanut Butter
4. Canned Meat
5. Baby Diapers
6. Baby Formula
7. Rice & Pasta
8. Hearty Soups & Stews
9. Toilet Paper
10. Laundry Detergent