Gilbert helps raise awareness of substance abuse prevention
Published on February 22, 2018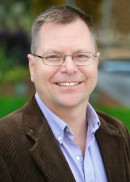 On Feb. 21, Paul Gilbert, CPH assistant professor of community and behavioral health, spoke at the Iowa state capitol as part of the Alliance of Coalitions for Change's (AC4C) Youth Day on the Hill. AC4C is a statewide network of people committed to substance abuse prevention.
Each year the alliance holds a Day on the Hill to update legislators on prevention successes and unmet needs across Iowa. This year's focus on "Impairment of Young Minds" highlighted special concerns about young Iowans and the lost opportunities and premature deaths caused by substance abuse.
"I'm glad to lend my voice to the effort as an academic who studies hazardous alcohol use," says Gilbert. "What's most impressive, however, are the efforts to involve young people–to hear directly from those most affected."
The day included advocacy training for youth and opportunities to speak with legislators.