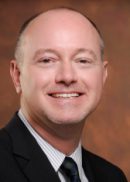 The University of Iowa Department of Health Management and Policy is pleased to welcome Dan Gentry, PhD, MHA, as the director of its Master of Health Administration (MHA) Program effective June 30, 2016. Gentry will succeed Tom Vaughn, PhD, MHSA, who has served as MHA Program director for seven years.
"Tom's outstanding leadership as program director is much appreciated by students and the department," says Keith Mueller, professor and head of the Department of Health Management and Policy. "He has contributed significantly to the success of our MHA program, which has a 100 percent post-graduation placement rate and ranks among the top ten health care management programs in the nation. Tom has played a vital part in ensuring that our students are so well prepared to enter the workforce."
Vaughn will continue to serve on the faculty as an associate professor.
Gentry comes to the University of Iowa from the University of Memphis School of Public Health, where he is professor and director of the Division of Health Systems, Management, and Policy; coordinator of the doctoral program in health systems and policy; and special adviser to the dean for strategic planning and accreditation.
From 2007 to 2011, Gentry served as professor and director of the Graduate Program in Health Systems Management at Rush University Medical Center in Chicago. From 1994 to 2007, he was on the faculty of the Saint Louis University (SLU) School of Public Health, where he served as the director of the SLU MHA Program from 2004 to 2007. In the most recent US News & World Report rankings of graduate programs in health administration, both SLU and Rush ranked among the top ten.
"We're looking forward to the vision and wealth of experience that Dan will bring to an already strong program," says Mueller. "He's a great fit for our MHA program, and his experience and research interests will lead to productivity in our department and in relationship with the University of Iowa Hospitals and Clinics."
Gentry's research has focused primarily on the financing, organization, and delivery of prevention and care services; tobacco policy; childhood obesity policy; HIV/STD policy; and evaluation of health and social service programs. He teaches in the areas of health care organization, health policy, and organizational analysis and change.
He has served on the boards of the Association of University Programs in Health Administration and the Commission on Accreditation of Healthcare Management Education (CAHME), including serving as chair of the CAHME Board from 2013-14.
He earned an MHA from the Medical University of South Carolina and a PhD in Health Services and Policy Analysis from the University of California, Berkeley.