HMP alumna Emma Ravenscroft earns ACHE student essay award
Published on February 6, 2017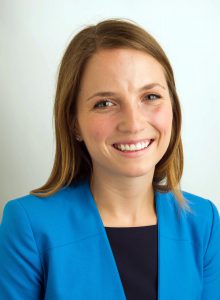 Health Management and Policy alumna Emma Ravenscroft (MHA/MBA '16) was recently named by the American College of Healthcare Executives (ACHE) as one of the winners of its 2017 Richard J. Stull Student Essay Competition in Healthcare Management.
As the recipient of the 3rd Place Prize in the Graduate Division, Ravenscroft will receive a $1,000 cash award and have the opportunity to present her paper at ACHE's Congress on Healthcare Leadership in Chicago at the end of March.
"This was a tremendous effort by Emma," says Dan Gentry, UI clinical professor of health management and policy and director of the Master of Health Administration program. "This is a beautifully written, well-researched, and important paper. We are all very proud of her."
Ravenscroft's paper, "Analyzing the Impact of the Medicare Access and CHIP Reauthorization Act (MACRA) on the Hospital-Physician," examines how MACRA, which represents the most sweeping change to physician payment in over two decades, functions as a driving force of the evolving hospital-physician relationship. Introducing financial risk to all stakeholders in the healthcare system, MACRA will require physicians and hospitals to evaluate collaborative relationships that were not previously considered in order to more closely integrate, both clinically and financially.
"On the brink of continued and uncertain reform, providers and hospitals are adjusting their behavior to keep pace with the strategic, operational, and financial demands of a rapidly shifting healthcare environment," notes Ravenscroft.
The Richard J. Stull Student Essay Competition allows future healthcare executives to identify and describe important issues and developments in their chosen profession. It is open to graduate and undergraduate students enrolled in U.S. or Canadian health administration programs that are part of ACHE's Higher Education Network. The competition was named in honor of ACHE's fourth CEO, Richard J. Stull.