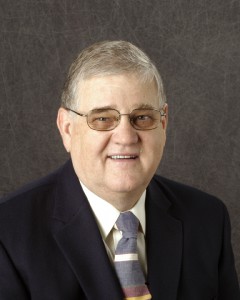 William "Bill" Clarke, professor emeritus of biostatistics in the UI College of Public Health, died Oct. 15, 2017, following a long and courageous battle with cancer. A celebration of Bill's life was held Oct. 20 in Iowa City.
Bill made major interdisciplinary contributions to improving the use of statistical methods in clinical trial design and analysis and in biomedical research. He earned an MS degree and a PhD degree in statistics from the University of Iowa, and joined the UI faculty in 1975.
In 1989, he co-founded the Clinical Trials Statistical and Data Management Center (CTSDMC), which is today an internationally recognized leader in managing and coordinating randomized multi-center clinical trials. He was associate director for the CTSDMC from 1989-2000 and director from 2000-2010.
"As Bill's colleague for over a decade, I greatly valued his positivity and optimism, as well as his indomitable spirit," notes Joe Cavanaugh, professor and head of biostatistics. "He was always among the first to give someone a pat on the back or to provide a word of encouragement. He was the first to compliment an area of strength and the last to criticize an area of weakness.
"Bill recognized that it takes a diverse group of intellects and talents to build a Department of Biostatistics, and that faculty, staff, and students are most likely to excel and contribute when they feel appreciated and valued. This is one of the many reasons why he will always be admired and revered in our department and the CTSDMC."
"Bill was a wonderful human being and colleague. I had the pleasure of 30 years working alongside of him," recalls Professor Emeritus Robert "Skip" Woolson, who co-founded the CTSDMC and served as the center's first director. "He was always kind, empathetic, caring, and concerned for others in every dealing I witnessed. I am overwhelmed by this news, but I know his spirit will have sustained impact and life on the many people and programs he touched."
Bill authored and co-authored more than 125 peer-reviewed publications. He received the College of Public Health Faculty Research Award in 2001, and was honored with the College of Public Health Faculty Service Award in 2015. In 2011, he received the Board of Regents Award for Faculty Excellence, one of the highest honors that can be bestowed to a University of Iowa faculty member.
The College of Public Health extends its deepest sympathies to Bill's family and to all who knew and worked with him.
 View the obituary from Lensing Funeral Home.