In Memoriam: Professor Emeritus Sam Levey
Published on December 29, 2015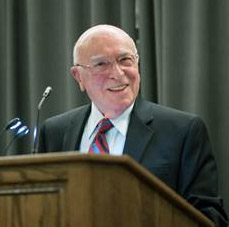 Samuel Levey, professor emeritus at the University of Iowa College of Public Health, died suddenly on December 28, 2015, in Sarasota, Florida, following a vacation with his family to celebrate 50 years of marriage with wife, Linda.
His funeral service was held on December 31, 2015, at Agudas Achim Congregation in Iowa City, with burial at Agudas Achim Cemetery. In lieu of flowers, memorials may be contributed to MDAAP Foundation or Shulman Hillel University of Iowa.
View Sam Levey's obituary from Lensing Funeral Home and a photo gallery of the Hospital and Health Administration program reunion and reception honoring Dr. Levey on Nov. 15, 2015.
In announcing Sam's death to colleagues in the UI College of Public Health, Dean Sue Curry noted: "A little more than a month ago, hundreds of friends joined with his family members in Iowa City to honor Sam on the occasion of his retirement after a distinguished 54-year career. At that time, he was celebrated as an academic powerhouse, a committed mentor and educator, and a wonderful person and friend. He was all of that, and much more. Sam's great intellect, his sharp wit, and his passion for justice will be greatly missed by his fellow faculty, students, staff, and alumni of our program, as well as countless friends and colleagues throughout Iowa, the nation, and the world."
Sam was born July 11, 1932, in Capetown, South Africa, the son of Harry and Esther (Turecki) Kushelowitz. The family emigrated to the United States in 1949. He earned degrees from Bowdoin College, Columbia University, the University of Iowa, and the Harvard School of Public Health.
After earning his Ph.D. from the University of Iowa in 1961, Levey held leadership posts in the Massachusetts Department of Public Welfare and the Harvard Community Health Plan. He also was Chairman and Professor and Founding Director of the Department of Health Care Administration at the City University of New York with a concurrent appointment as a Professor of Administrative Medicine at Mount Sinai School of Medicine.
He returned to the UI in 1977 to assume leadership of the Graduate Program in Hospital and Health Administration – the precursor to the current Department of Health Management and Policy. Under his leadership, the program thrived; he brought in new faculty, including faculty to conduct health services research, revised the curriculum and forged closer ties with the College of Business, created joint MBA/MA degrees as well as joint programs with the College of Law and with the School of Urban and Regional Planning.  He placed students in post-graduate administrative residencies or fellowships, and diversified the student body.
Along with his accomplishments as an academic program leader, he had a truly impressive record of teaching, scholarship, and service. Over the course of his career at the University of Iowa, Sam taught over 1,300 students and was principal investigator or co-principal investigator on nearly 50 grants totaling nearly $4 million. In 1981 Sam fostered the graduate program's first initiative in health services research by bringing the Center for Health Services into the program as its research arm.  He published more than 100 peer reviewed publications as well as a number of monographs and books – including in 1973 with Professor Paul Loomba of City University of New York the first text that focused on health care as opposed to hospital management, entitled, "Health Care Administration, A Management Perspective" and, in 1997 a scholarly history of UIHC entitled, "The Rise of a University Hospital, A Leadership Perspective."
He was honored for his work multiple times, including three prestigious recognitions from the American College of Healthcare Executives: the Health Management Research Award, the Regents Award and designation as a Life Fellow
Sam is survived by his wife, their three children, Eric (Michelle) Levey of Marriottsville, MD, Andrea Levey of Rockford, IL, Sara (Scott) Weisenberg of Chicago, IL., grandchildren Amanda and Jacob Levey, Sidney, Jared, and Evie Weisenberg, step-grandchildren Christopher and Alexis Missett, nephews Allen Madison and David Hertz, niece Janice Lamb. He was predeceased by his parents and sister Dorothea Hertz.