In pursuit of excellence: Q&A with sports medicine researcher Stephanie Kliethermes
By James Hughes
Published on March 4, 2019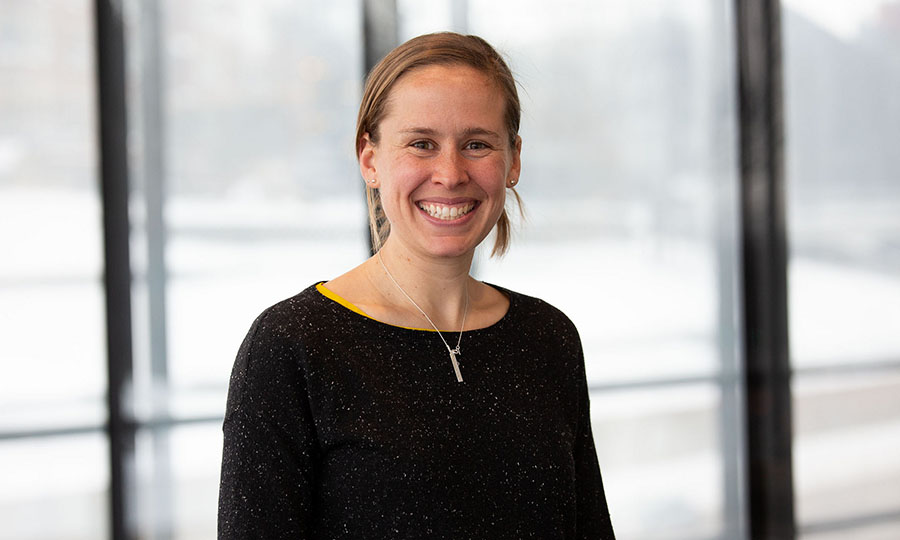 College of Public Health alumna Stephanie Kliethermes (09MS, 13 PhD in biostatistics) is the research director at the American Medical Society for Sports Medicine (AMSSM). She also is an assistant professor in the Division of Sports Medicine at the University of Wisconsin-Madison. Kliethermes recently answered a few questions about her path to sports medicine research and current work at the AMSSM, including a focus on youth early sports specialization.
Q: Sports have played a big part in your life. What sports did you participate in during high school and college?

SK: Sports have been a large part of my life for as long as I can remember; my participation in youth sports and my active lifestyle have undoubtedly shaped who I am today. In high school, I played volleyball and basketball, ran track, and played on a club soccer team. I was very fortunate to continue my athletic career into my college years at Lawrence University in Appleton, Wisconsin. After college, I took up running and I still run today. I focus mainly on endurance running and have completed over 20 marathons and two ultra-marathons. I love the challenge of this sport and the sense of "team" created by the running community. I value the role youth sports played in allowing me to maintain an active lifestyle today.
Q: What changes or trends have you seen in participation and training since your student-athlete days?
SK: One of the biggest shifts I have seen in youth sports is in its focus and purpose. When I was growing up, I thrived on participating in whatever sport was in season. I could do so because the focus wasn't on earning a college scholarship or "making the pros," but rather on having fun as part of a team and being physically active. However, by the time I went to college in 2003, the culture around youth sports was changing and multi-sport athletes were becoming increasingly obsolete. Instead, middle-school kids were being asked to choose one year-round sport in pursuit of excellence.
I fear the age for choosing "one sport" is even lower now. For example, as a coach for our local Girls on the Run chapter, I see girls as young as third grade being asked to make big commitments to particular sports, which inhibits their ability to participate in other activities. I never had to make those decisions as a kid, and I'm grateful. I believe being a multi-sport athlete is the reason I've been able to remain injury free through all my athletic endeavors and continue to be highly physically active to this day.
Q: What appealed to you about the job of research director at the American Medical Society for Sports Medicine AMSSM?
SK: I have always had a passion for sports and believe wholeheartedly in the power of physical activity to positively impact not only the lives of individuals but the world as a whole. I was an English and math major at Lawrence and ultimately decided to pursue biostatistics in graduate school. I wasn't sure then if a job existed that would allow me to meld all my interests, so when this job came across my desk, it felt like an opportunity I couldn't pass up.
As I learned more about the AMSSM, I knew this job would be a great fit for me. In particular, I was drawn to its goal of developing a national sports medicine research network. Not only could I bring my research knowledge and quantitative skill-set to the field of sports medicine, but I also would have an opportunity to advocate for and explain the importance and value of sport and physical activity for kids and adults alike. Additionally, the creativity, vision, teamwork, trust, and challenge of creating and shaping something new appealed to my competitive, athletic background.
Research has always been a central pillar of the AMSSM. Much of the field of sports medicine developed based on clinical experience, but there is a strong need and demand to put evidence behind common treatment practices. AMSSM has also been working to develop a larger, more impactful collaborative research network (CRN) with the mission of fostering multi-site studies as part of a national sports medicine research program. AMSSM has been planning and mapping out this vision for some time, and the hiring of a research director was the first step in making the CRN a reality.
Q:  What are some of the issues you're currently studying?
SK: The CRN Leadership Team is focused on developing and maintaining a broad research portfolio of interest to our members. One of our first projects was funding a multi-site trial looking at the effect of sub-symptom threshold exercise in recovery from sport-related concussion. We recently completed a "Shark Tank" themed research competition that resulted in us awarding funding for a project looking at the impact of mindfulness on the treatment of osteoarthritis, a condition common to many sports medicine clinics. We're just about to launch two request-for-proposals related to research on musculoskeletal conditions.
I'm also part of numerous investigative teams studying such things as the impact of youth sport specialization on injury and well-being, efficacy of soccer headgear on concussion prevention, associations between pubertal age and bone health, characteristics of hamstring strain injury in elite athletes, and various other projects related to maximizing student-athlete performance and injury prevention.
Q: What are some of the challenges in conducting sports medicine research?
SK: The value of rigorous clinical research in the field cannot be understated, especially given the strong push for clinicians to practice evidence-based medicine, which integrates clinical experience, patient values, and available research to make decisions on patient care.
Specific to the field of sports medicine, we struggle to appropriately define, model, and ultimately understand the association between certain risk factors and outcomes that occur in complex environments. One major reason for this is that there is often a lack of consistency in how researchers define certain exposures and outcomes. For instance, what do we mean by injury or performance, or how do we classify an athletic exposure? These are questions that are difficult to consistently answer in the field. Partially, this is because sports medicine suffers from a lack of reliable and validated metrics that measure some of these common constructs.
The bottom line is that the field has made great strides in the past few decades related to research, but there is a need for both methodological standardization and innovation to help improve the practice of sports medicine.
Q: There is a growing focus on youth early sports specialization (ESS), which is intense training in a single sport to the exclusion of other types of physical activity. Why has ESS started to come to the forefront of your industry?
SK: The term "sport specialization" was first introduced in the early 2000s, but there's a long history of research around the concept of focusing on one task (such as playing an instrument or practicing a sport) to achieve expertise, or in this case, athletic success. Some researchers have suggested that an early diversification approach to sport activities, with particular attention given to free play, may be the most beneficial strategy for improving athletic performance and encouraging lifelong physical activity. However, evidence remains limited regarding the effectiveness of such an approach.
More recently, within the past 10 years, research regarding sport specialization in the US has added to our understanding of appropriate training approaches for youth athletes. The physical and psychological benefits of participation in youth sports are widely acknowledged, with an estimated 60 million youth participating in organized sports in the US. However, sport specialization has been associated with the development of high-risk motion control patterns, an increased risk of injury, and an early termination of sports participation due to physical and emotional burnout. There is also little evidence to suggest that kids who specialize in one sport are more likely to make it to an elite level.
The sport specialization trend is alarming, especially given that 70% of children drop out of organized sports by age 13. We're already fighting the negative public health effects of increasingly sedentary lifestyles, and I fear this phenomenon in youth sports may contribute to the public health concerns in future years. But even as some of this evidence comes to light, the topic suffers from a lack of quality, prospective research to truly understand the potential benefits and risks of sport specialization.
Q: The AMSSM is organizing a Youth Early Sport Specialization Summit (YESS) in April 2019. Who are your partners, what are the main goals of the meeting, and who are you hoping to connect with?
SK: We are really excited about putting on the YESS this April and are extremely grateful for the support of the National Institutes of Health, Major League Soccer, and the National Basketball Association to make this research conference a reality. Our goal is to gather a diverse group of experts and stakeholders in the field of youth sports to discuss the current state of knowledge regarding youth sport specialization, identify knowledge gaps in the field, and form potential research paths moving forward. I believe this summit will allow us to build on the amazing work of other individuals and organizations and to establish a common research path moving forward that can more fully address some of the ongoing limitations in this area of sports medicine.
Before we can make meaningful, long-lasting decisions and policies regarding sport specialization in youth athletes, we need to have a solid evidence-base and a complete understanding of its effects on youth. Establishing this evidence-base requires input from physicians, certified athletic trainers or physical therapists who regularly interact with youth athletes, as well as coaches, parents, advocates, and researchers who work in youth sport.
Q: How did the UI biostatistics program influence your career?
SK: The program had a tremendous impact on helping me to become a successful collaborative biostatistician, researcher, and leader. I have always felt that to be a good biostatistician, you must be able to effectively communicate your methods and results in a way that is understandable to your audience. The faculty understood the value of developing the complete biostatistician and provided me the opportunity to hone not only my quantitative skills, but also many intangible collaborative skills through numerous teaching and consulting opportunities.
Biostatistics is a very broad field that can suit many different interests and skill-sets. The UI biostatistics faculty understood my interests and strengths and encouraged me to pave my own path. Their belief in me, willingness to allow me to explore different directions, and genuine desire to see each of their students find the area of biostatistics that best suits them gave me the skills, confidence, and research knowledge necessary to tackle bigger challenges—such as creating a national sports medicine research network!
Photo by Katy Stites