Iowa entrepreneurs pursue startup success
By Debra Venzke
Published on November 6, 2018
Two friends with University of Iowa roots co-found a company dedicated to improving people's communication skills.
Public speaking is a common fear—most of us are anxious about freezing up or tanking in front of a room full of people. Nico Aguilar, a University of Iowa alumnus (14MHA/MPH, 11BS), still vividly remembers the time he bombed a speech in college.
"I had an anxiety attack in front of my entire rhetoric class," he recalls. "My palms were sweaty, my breath stopped. My mind just went blank and I totally botched my presentation."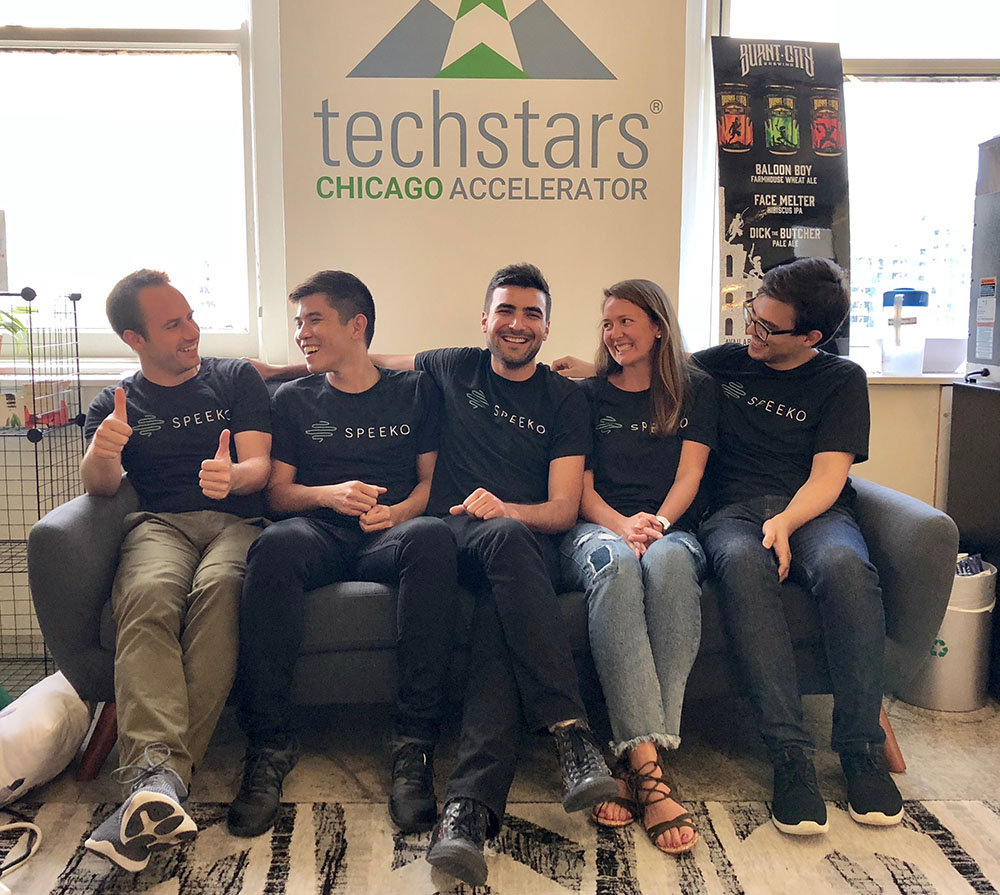 That moment helped crystalize Aguilar's determination to improve his communication skills, a quest that has led to many new doors opening over the following years.
"That journey," he says, "changed my life."
Aguilar, along with current UI student Anthony Pham (19MPH, 16MD, 11BS), are co-founders of Speeko, a voice analytics company that uses artificial intelligence to help individuals measure and improve their verbal communication. As a team, the two have pitched their way to startup success at a number of university and international entrepreneurial competitions.
Aguilar and Pham met in class as undergraduates at the UI. Both physiology majors, they worked on several group projects together and became good friends. While in graduate school, they both collaborated on other startup ventures and contributed to a National Institutes of Health-funded research project that measured communication patterns in medical settings.
They were also avid users of mobile apps that help people improve a variety of skills, from learning new languages to tracking exercise to meditating—products that "are like having a coach in your pocket," Pham says. "We were seeing this happen in other industries, and we thought: Why aren't we leveraging the incredible advances in technology to improve communication coaching?"
Merging these experiences and ideas, Pham and Aguilar created Speeko two-and-half years ago, working on the company nights and weekends while pursuing their graduate studies. They connected with the UI John Pappajohn Entrepreneurial Center (JPEC) and participated in numerous events, winning the Rose Francis Elevator Pitch Competition and Business Model Competition. The latter event propelled them to the 2018 International Business Model Competition, where they placed as semifinalists.
Most recently, the Speeko team was selected by Techstars, a global startup accelerator, to be part of its 2018 Chicago cohort. Only 10 companies from over 2,200 applications were chosen for the three-month program that ran July through October. Techstars provided the teams with workspace and direct access to a mentor network of Midwest tech investors, executives, and founders.
The Speeko team, which now includes five full-time members, will continue working in the Techstars office for the next nine months. To cap off a great summer, the Speeko app officially launched in October 2018.
While Aguilar is based in Chicago and works full-time on Speeko, Pham is at the UI finishing up his Master of Public Health degree in occupational and environmental health.
Aguilar and Pham draw parallels between their shared public health background and their business venture. "Improving people's communication skills is how we want to improve people's lives," Pham says. "The ability to communicate effectively contributes to your personal and professional success and well-being."
"If our technology can intervene and improve the transmission of thoughts and ideas, it will have many positive downstream impacts," Aguilar notes.
They also have advice for aspiring student entrepreneurs.
"The university has an abundance of resources available. JPEC will connect you to a strong local network of entrepreneurs and mentors. That's how we got our start," Pham says. "It may take you out of your comfort zone to present your ideas to new people. Taking that first step is the only way you can learn, and it will make all the difference in turning your ideas into reality."
"My biggest piece of advice is to enjoy the journey," Aguilar says. "There are so many ups and downs, and there are always a million priorities competing for your attention, but this should be about the journey and not just the destination. It's important to appreciate the experience and have perspective throughout it.
"We're grateful for the support from the University of Iowa and JPEC," Aguilar adds. "We wouldn't be where we are today without that support across the campus."