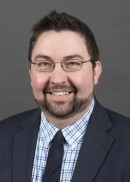 Community health care centers and rural health clinics face resource constraints that may limit their ability to respond to the opportunities and challenges of the Affordable Care Act, according to a recent study published by the University of Iowa Public Policy Center and College of Public Health.
About 25 million individuals are expected to gain insurance coverage over the next five years through the Affordable Care Act (ACA). At the same time, as many as 31 million individuals will remain uninsured.
"The implementation of the ACA and the corresponding expansion of insurance coverage will result in an increased demand for primary care services," says the study's lead author Brad Wright, assistant professor of health management and policy at the University of Iowa. "Safety net providers will be called upon to provide a significant amount of care to help meet this demand, in addition to continuing to care for those who remain uninsured. Whether they will have the capacity to do so is unknown."
Data show both community health care centers and rural health clinics are not fully staffed, have difficulty recruiting professionals to fill vacant positions, and report challenges referring patients for specialty care.
The study, funded by The Commonwealth Fund, indicates the need for safety net providers is only going to increase, and their ability to meet the increased demand for primary care services – while continuing to serve the uninsured – will be critical for access to care for vulnerable populations.  The full policy brief is available here.