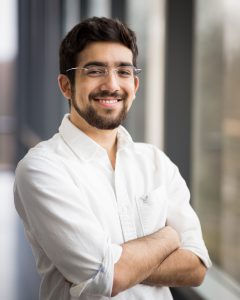 By his junior year at the University of Texas at Brownsville, Javier Flores knew that he liked math and anything quantitative. How that might translate into a career or further education, however, was still an enigma.
"I was surfing around trying to figure out what to do for the summer," Flores recalls, when he came across a site for the Summer Institute in Biostatistics, a seven-week program that is offered at seven campuses around the country. He chose Iowa based somewhat on the faculty biographies and the topics of the proposed projects. "Truly," he admits with a sheepish grin, "it was kind of a whim."
Enjoying Iowa
Whims can sometimes turn out to be just the right thing at the right time, and this has been the case for Flores. Two years after visiting the University of Iowa campus as a summer institute student, he is completing his first year as a PhD candidate in biostatistics in the College of Public Health. Not only has he found his niche in terms of a field of study, but he's also surprised himself at how much he enjoys Iowa.
"I was worried I might have some culture shock," he says, reflecting on his largely Latino hometown at the southernmost tip of Texas. Instead, he's fallen in love with his new home. "It's a fantastic place; there's so much to do!" he says.
A team-based approach
A large part of the allure of returning to Iowa was the opportunity to work with Professor Joe Cavanaugh. Cavanaugh led Flores and another institute student on a project, "An Analysis of Indicators for High Risk Behavior in Adolescents Based on the Iowa Youth Survey." Flores immediately took to the team-based approach of public health.
"I love the sense of collaboration," he says, describing the partnership with another student, as well as the input of both Cavanaugh and consulting faculty member Marizen Ramirez from the Department of Occupational and Environmental Health.
Cavanaugh was immensely impressed by Flores' performance that summer. Particularly memorable was an afternoon when he introduced Flores and his research partner to a new statistical software system. After providing them with a relatively scant orientation, he gave them a book to use as a reference and anticipated spending a week or two acclimating them to the software.
"Late that evening," Cavanaugh recalls, "I received an email message from Javier with an attachment that featured a couple of hundred lines of source code. Much to my amazement, they had completed nearly the entire program that was needed to generate the results for the project! Furthermore, the code ran perfectly."
Giving back
Cavanaugh is now Flores' adviser, and the two are working on a project stemming from another survey of youth behavior. Flores anticipates delving into other areas of his adviser's research. While the research is what drives Flores, he also really appreciates the many friendships and personal connections he's made in the department. This summer, he'll get to give back to the more social side of the field in his role as activity coordinator for the summer institute.
"I hope to create an experience that captures all the elements that make our department as great as it is," he says of his summer appointment. The best success of all would be to recruit a few new biostatistics graduate students to follow in his footsteps.
This story originally appeared in the Spring 2016 issue of InSight
Photo by John Choate