Jim Kacer: A love for science, the environment, and lifelong learning leads to a PhD
Published on May 3, 2023
After a long career as a professional in various environmental and occupational health settings, this graduating doctoral student is ready to continue contributing to the field by helping students and others.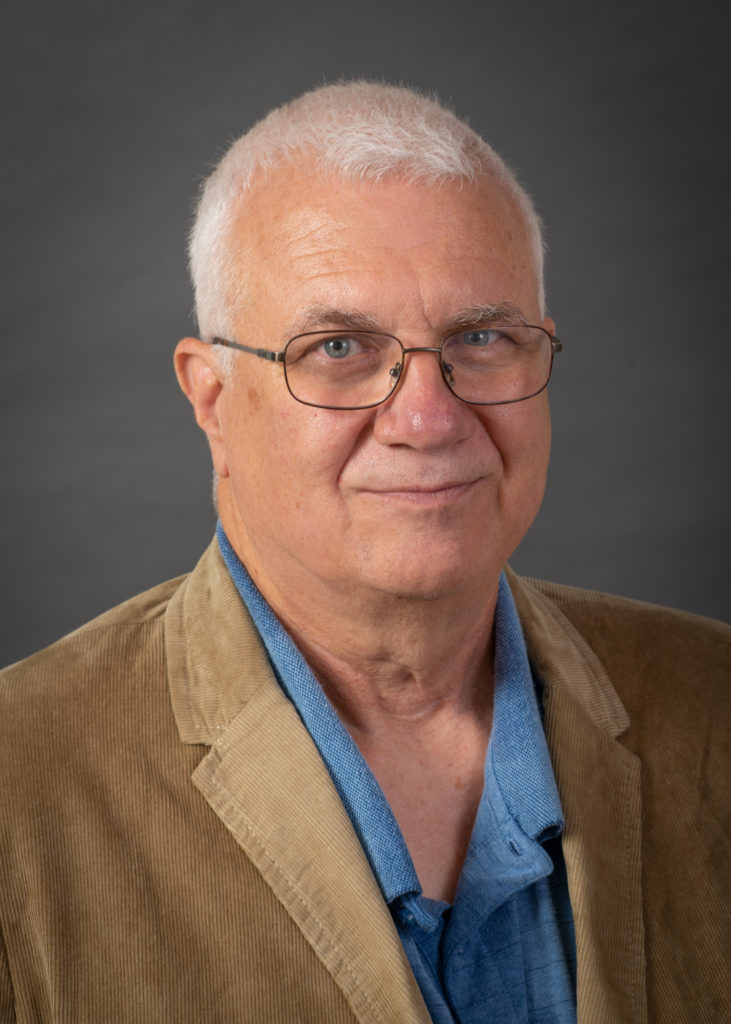 By the time Jim Kacer stepped away from his position as an environmental specialist with the Iowa Department of Natural Resources (IDNR) in 2019, he had logged more than 40 years in various professional roles across the environmental health and safety sector. His impressive résumé includes working as an environmental engineer in government agencies and in private businesses, serving as an environmental protection coordinator with the U.S. Air Force, managing corporate safety and environmental programs, and working as a consultant responding to all manner of environmental hazards and natural disasters.
Yet, after departing the IDNR, he didn't feel like taking a traditional approach to retirement.
"I wanted to keep my options open," says Kacer, who has recently completed his doctoral coursework and is preparing to graduate from the University of Iowa College of Public Health with a PhD degree in occupational and environmental health. Kacer plans to graduate in May 2023.
Kacer says his lifelong passion for science, the environment, and health dates to his youth. A native of Tama, Iowa, he remembers taking part in activities to mark the inaugural Earth Day on April 22, 1970. A school assembly that day helped spark an interest that simmered and grew. As an undergraduate student at Iowa State University, Kacer took several environmental science courses and graduated with a bachelor's degree in bacteriology. After college, he went to work for a municipal wastewater treatment plant in Cedar Rapids.
"That got me thinking about the environment," he says.
Later, while working in a laboratory at Carnation Company in Fort Dodge, Iowa, he realized he wanted to pursue his environmental interests. He decided to seek a master's degree in environmental engineering at the University of Iowa, a goal he achieved in 1985.
That set the stage for Kacer's diverse range of experiences across a variety of industries and sectors over more than 40 years. As an environmental engineer with the Iowa Department of Natural Resources from 1985 to 1989, Kacer led wastewater and solid waste programs. He conducted inspections of water and wastewater treatment facilities, public and private landfills and other solid waste facilities, as well as air pollution sources. He also responded to releases of hazardous materials and prepared enforcement documentation.
After a stint assisting with coordination of environmental protection services at Williams Air Force Base in Arizona, he went to work as a consultant, managing environmental, health, and safety projects for private and public sector clients. With clients and contracts throughout the United States, Kacer traveled extensively. He conducted mold surveys in New Orleans following Hurricane Katrina. He led environmental assessments for the Army National Guard in Maine, Minnesota, New Hampshire, and Vermont. He inspected U.S. Postal Service facilities in multiple states and U.S. Army facilities in Europe. The work included a range of field activities, including soil and groundwater sampling, asbestos and lead-based paint surveys, and evaluations of leaking underground storage tank sites, as well as preparing proposals and workplans.
Kacer always focused on gaining new skills and credentials. He earned his license as a professional civil engineer (PE) in Iowa and Nebraska and became a certified industrial hygienist (CIH).
Eventually, he returned to the Iowa Department of Natural Resources in 2010. During this second turn with the IDNR, Kacer also began to re-engage with academic pursuits. He enrolled in the College of Public Health's graduate certificate program in Public Health, but that wasn't the end of his academic journey.
Since the certificate courses could all be applied toward a Master of Public Health (MPH) degree, Kacer decided to press ahead with the MPH program.
"I was working part-time on the MPH, and it got to be more of a focus," Kacer recalls. "Eventually, I realized I could be successful doing more than one course at a time."
He earned the MPH degree in 2019—but that wasn't the final stop, either. Kacer applied and was accepted into the PhD program in occupational and environmental health at Iowa.
His advisor, Patrick O'Shaughnessy, professor and director of graduate studies in the Department of Occupational and Environmental Health, says Kacer's professional experience is one of the characteristics that sets him apart.
"Jim's practical experiences as an occupational and environmental health professional have guided his academic interests," says O'Shaughnessy. "It's been a steady process of him reaching higher and higher levels of academic achievement, and each step along the path has been informed by his work in the field."
As he nears the culmination of his doctoral studies, Kacer continues to think flexibly about the future. Initially, he thought the PhD might be useful for future consulting work, and he might work part-time as a consultant. But he also would like to volunteer to help other students who are looking to launch careers in the environmental or occupational health sector.
"Nothing formal, but I could be a resource if someone wanted information, to help them be prepared to deal with a client issue or a regulatory agency."
"You have to adapt and be flexible," advises Kacer. "It's not like people get out of college and keep the same job for 40 years and get a gold watch. You really have to keep your options open."
---
A Focus on Wildlife
While working in various roles in environmental health, Jim Kacer has had opportunities to encounter some of the wildlife that inhabit Iowa's natural areas. His connection to the environment gradually led to an interest in photography. Kacer shared a few snapshots from his excursions on waterways and other natural areas.