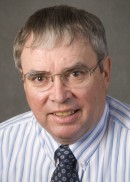 Charles Lynch, CPH professor of epidemiology, is a recipient of the 2018 Michael J. Brody Award for Faculty Excellence in Service to the University and the State of Iowa.
The Brody Award is named in honor of the late Michael J. Brody, former president of the UI Faculty Senate. It recognizes outstanding faculty who have made exceptional contributions to the UI and the community.
Recipients will be recognized formally at an awards reception hosted by the Provost's Office.
Congratulations, Chuck!