Meet the Dean: Q&A with Edith Parker
Published on July 18, 2018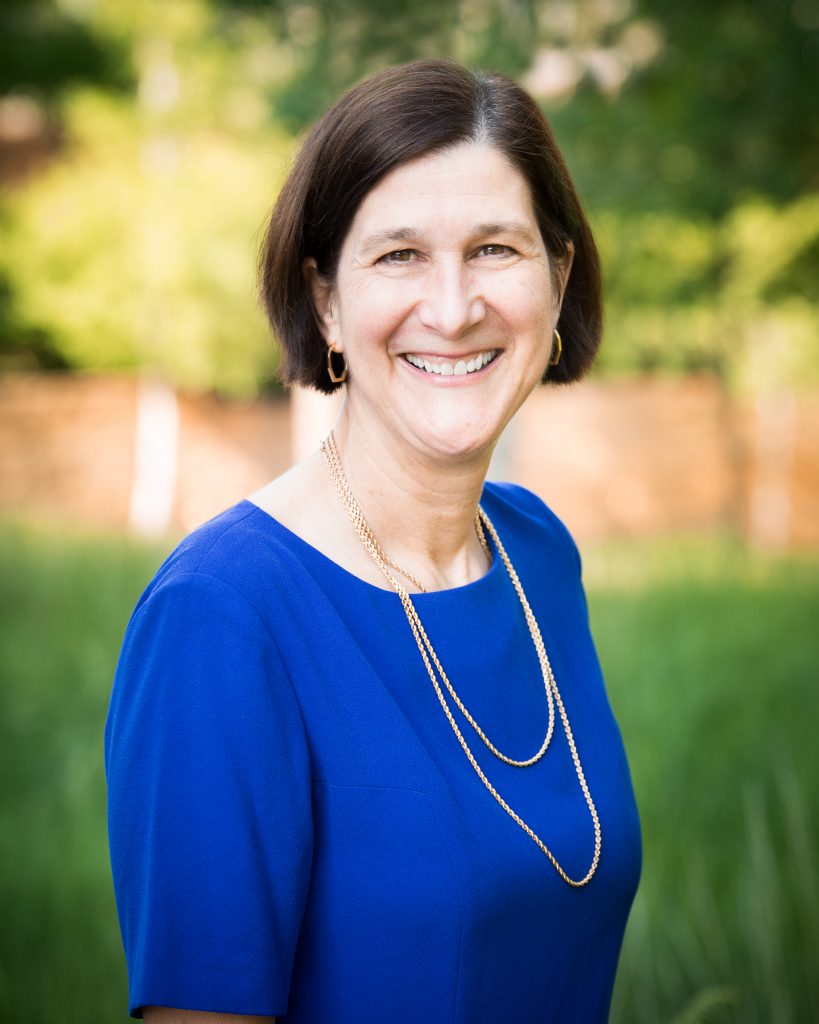 Edith Parker stepped into the role of dean of the College of Public Health on June 1, 2018. She previously served as the head of the college's Department of Community and Behavioral Health, a position she held since joining the University of Iowa in 2010.
Prior to coming to Iowa, she was a faculty member in the Department of Health Behavior and Health Education and associate dean for academic affairs at the University of Michigan School of Public Health.
A nationally recognized expert in community-based participatory research (CBPR), her work centers on engaging community members in the design, implementation, and evaluation of research interventions, and translating and disseminating research findings for program and policy change. Parker recently answered a few questions about her new role as dean and what keeps her inspired in public health.
What attracted you to the dean position?
A few things. Starting back in 2005, when I was still at Michigan, I had become associate dean of academic affairs and dealt mostly with curriculum and student affairs. I found I really liked that aspect of administration, in the sense that instead of focusing solely on your own career, you were focusing on setting up conditions to allow others to succeed. And I think that's what made the position as dean here so attractive, the thought of being able to work with faculty, staff, and students to further their goals and also the goals of the college.
What made the Iowa position extremely attractive was that I knew the quality of the staff, students, and faculty here and the wonderful things that are going on in the college. And the fact that the college is in a really good place, so whoever was going to become the next dean would be operating from a place of strength, thanks to the leadership of the previous deans.
What are your top priorities for your first year as dean?
I've been on the job for about a month now, and I realize — even though I was an internal candidate — how much I don't know. So I want to learn about all aspects of the college and become more knowledgeable about and grounded in the college. I want to meet with faculty, staff, and students and get to know much more about the other departments, their initiatives and challenges they're facing, and ways that the college can support them.
Second, we have so many initiatives we've started in recent years that show the innovation of the college, and I want to check back in on those. I think our new undergraduate program is doing well, and we've made great strides in our Global Health Initiative as well as the Business Leadership Network and Iowa Institute of Public Health Research and Policy. So I plan to revisit those initiatives to see where we are and where we can take them.
Another priority is getting us up and running in this transition to the university's new budget model. We've got a learning curve to find out how that works in our situation. I'm very optimistic and very positive that what we do and how we do it will work well. We'll make that transition as smooth as possible and work hard to get everybody on board.
And then I think we move forward thinking about where we're going next, looking to the college's strategic plan and adapting that.
What do you see as the college's most significant strengths?
The quality of our faculty. Not only the quality, but the cooperation and collaboration amongst faculty both within and outside of the college. We attract really good, strong students, and we have fantastic, competent staff. All of those things come together, and for me, it's always been a fun place to come to work. That's unique and I want to make sure we keep that.
Also, we're fairly young as a college, and I think that's a strength in many ways. It makes us much more nimble. We can see things out in the environment and respond to them in a way that oftentimes a bigger, more established college can't — it's like a big tanker, it's harder to move. I think that we've been able to be responsive to new trends and to new ideas in a way that some other colleges of public health can't do.
What are some of the challenges facing the college and the field of public health?
I think the challenges to the college are the same as the field of public health, in terms of external challenges. You know, funding is really tight. I think [University of Iowa] President Harreld has made a very compelling point that while the budget of the state has increased in recent years and the number of students has increased at the University of Iowa, appropriations have decreased. I think similarly in the field of public health, agencies are trying to do more with less. That's something we've got to be cognizant of and search for other, alternative sources of funding. Philanthropy is one that I hope we can make big advances in during the next few years, because we have such a compelling story in public health.
You've been involved with public health for more than 30 years. What keeps you interested and inspired in the field?
One aspect is the profound impact that public health makes in the field, be it as practitioners or researchers. I mean, rarely do you have a job where you can say you helped prevent this disease, or you just contributed to people having a healthier life and a better quality of life. I think that is exciting.
But the other is that we train our students in a skill set that can be applied to many different problems. I don't know of another career where you can, in some years, be working on breast cancer prevention and then move, as I have, into environmental causes for asthma and asthma prevention, and at the same time be working with colleagues on evaluating club foot treatment programs or preventing an infectious disease in Ghana. So it keeps you on your toes, because you have to constantly keep learning about the issues that you're focusing on while retaining that skill set that can help move communities forward in terms of their health.
We also have the opportunity to work with communities from a strengths base, so we can engage with them to not just think "What are the problems," but to realize "What are the strengths they bring to solving those problems?" It's not a top-down approach, it is an engaged partnership approach and that's really, really key.
What are some of your favorite things to do to relax and recharge?
I like to read, and I have a group of fellow public health folks who get together weekly at the gym to do some strength training and exercising. But the thing I love to do the most to relax is fly fishing. There's something about it; I become so fixated on trying to make sure that when that fish takes the fly that I catch it — and I release it, by the way — that there's nothing else I can be thinking about. I find it extremely relaxing. And you usually do it in beautiful places like Montana, so that's fun, too.
And finally, what's the best advice you've ever been given?
I remember a conversation many years ago with a former dean at Michigan when I became associate dean. She said, "My one piece of advice is for you to realize that you rarely have to make a decision on the spot. You should always remember that you have time to weigh the pros and cons." I guess if you're an emergency room doctor, that's not true, but in administration it probably is. It does makes you realize that you have time to gather all the best information before you act.