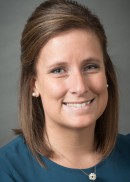 Erin Mobley, MPH, a doctoral student in the Department of Health Management and Policy in the UI College of Public Health, has been awarded $5,000 from the Iowa Cancer Consortium to identify and help address gaps in care experienced by adolescent and young adult (AYA) cancer patients in the AYA Program at the University of Iowa Stead Family Children's Hospital and the Holden Comprehensive Cancer Center at the University of Iowa Hospitals and Clinics. Mobley serves as principal investigator on the project that will use mixed-methods research.
The Iowa Cancer Consortium is a partnership of more than 300 health care providers, public health professionals, caregivers, researchers, cancer survivors, volunteers and other Iowans who work together to reduce the burden of cancer in the state.  Through collaboration, the Consortium enhances partners' abilities to address cancer prevention, early detection, treatment and quality of life in Iowa.
In the AYA Program, patients are between the ages of 13 and 31 and experience unique needs and challenges during their cancer treatment as well as after treatment has been completed.  The AYA Program, which was established about a year ago to address those needs, is in the process of gathering information from patients who have been treated at the Stead Family Children's Hospital and the Holden Comprehensive Cancer Center.
This seven-month project will have the task of analyzing information collected directly from AYA patients to inform program leadership about gaps in current care and ways to help determine subsequent programming and interventions to improve care for AYA patients.  The analyses include qualitative data from focus groups and quantitative data from surveys administered to patients.  By using a mixed-methods approach to study the needs of this population, the project team hopes to provide significant insight toward understanding what can be done to enhance quality of life for this group of cancer patients locally, as well as AYA patients elsewhere in Iowa and nationally.
To follow the work of this project, use #AYAcancerIowa.