New research study to investigate rare neuroendocrine tumors
Published on April 12, 2021
A newly funded research study in the University of Iowa College of Public Health aims to determine the optimal sequencing of treatments for people with neuroendocrine tumors, a rare form of cancer.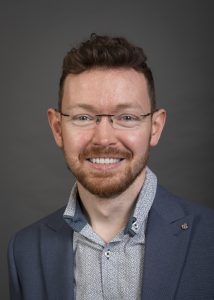 The $5 million, three-year study will be led by Michael O'Rorke, assistant professor of epidemiology, and will enroll approximately 3,000 patients from 14 participating research centers throughout the United States. The project is funded by the Patient-Centered Outcomes Research Institute (PCORI), a nonprofit organization established by Congress.
Neuroendocrine tumors (NETs) are a group of cancers that occur most frequently in the gastrointestinal tract, pancreas, and lungs. NETs are typically slow growing with vague signs and varied symptoms, which often leads to diagnostic delays and disease spread. Patients with NETs frequently experience a prolonged clinical course, significant symptom burdens, and a confusing array of therapeutic options, including biologic therapies, radiation, and chemotherapy.
"Patients with NETs face difficult treatment decisions such as, what therapy would be best to try next? If I were to take this option now, what treatment options will be closed off to me in the future?" observes O'Rorke. "Clinicians are also unsure how best to tailor treatment selection to the characteristics of the patient and his or her tumor."
The study, which will follow patients for up to five years to track their outcomes, aims to partner with patients in an approach known as comparative effectiveness research (CER), a type of research that looks at which care options work, for whom, and under which circumstances.
"This large CER study leveraging data from electronic medical records, chart abstractions, and patient reported outcomes will go some way to defining the risks and benefits of the different therapeutic options currently available – findings which will be of benefit to patients and their caregivers, clinicians, and other stakeholders involved in their care," says O'Rorke. "The infrastructure generated will also be of importance for future NET research using the PCORnet resources, and for CER in other rare diseases."
Additional information about the CER-NET study is available online.
The most recent round of PCORI funding also included support for other University of Iowa faculty researchers:
Ryan Carnahan, professor of epidemiology, will lead a UI team participating in a multi-center study of type 2 diabetes to compare medications to determine which ones offer the best balance of risks and benefits. Carnahan also will lead the involvement of the Greater Plains Collaborative clinical research network in this study.
Elizabeth Chrischilles, professor and head of epidemiology, and Lyndsay Harshman, assistant professor of pediatrics, will co-lead a UI team participating in a multi-center study to assess how effective different strategies to monitor and treat high blood pressure are at preserving kidney function in children who have chronic kidney disease.