Pentella, Atchison honored with APHL Lifetime Achievement Awards
Published on June 25, 2018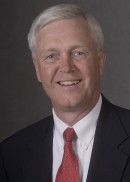 Michael Pentella and Christopher Atchison have been recognized with Lifetime Achievement Awards from the Association of Public Health Laboratories (APHL).
This award recognizes individuals who have established a history of distinguished service to APHL, made significant contributions to the advancement of public health laboratory science or practice, exhibited leadership in the field of public health, and/or positively influenced public health policy on a national or global level
Pentella is the director of Iowa's State Hygienic Laboratory (SHL) and a clinical professor of epidemiology at the University of Iowa College of Public Health. He is the former director of the William A. Hinton State Laboratory Institute in Massachusetts. Prior to that, he served as associate director of infectious disease for SHL, where he was responsible for bacteriology, virology, serology, parasitology and mycology, and was actively involved with bioterrorism preparedness, antimicrobial resistance and pandemic influenza planning.
Atchison is the retired former director of the Iowa SHL and is emeritus clinical professor of health management and policy at the University of Iowa. He was associate dean for public health practice at the UI and served on the Iowa Prevention of Disabilities Policy Council, co-chaired the Partnership for Better Health, and was on the Board of the Child and Family Policy Center and on the Steering Committee for the National Academy of State Health Policy. He served as director of the Iowa Department of Public Health from 1991-1999.
The awardees were honored during a ceremony at the 2018 APHL Annual Meeting & Twelfth Government Environmental Laboratory Conference in Pasadena, California.