Petersen appointed to Institute for Laboratory Animal Research Council
Published on May 19, 2021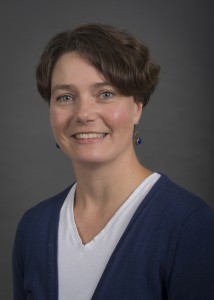 Christine Petersen, professor of epidemiology and director of the Center for Emerging Infectious Diseases in the University of Iowa College of Public Health, has been appointed as a member of the Institute for Laboratory Animal Research (ILAR) Council. Her appointment runs from April 29, 2021, to Dec. 31, 2023.
ILAR operates within the Division on Earth and Life Studies at the National Academies of Science, Engineering and Medicine. The mission of ILAR is to evaluate and to report on scientific, technological, and ethical use of animals and related biological resources, and of non-animal alternatives in non-food settings, such as research, testing, education, and production of pharmaceuticals.
ILAR seeks to identify practices that provide for excellence in the welfare of animals used for these purposes, recognizing their moral value while achieving high-quality science. ILAR evaluates and encourages the use, development, and validation of non-animal alternatives. ILAR provides independent, objective advice to the federal government, to the international biomedical community, and to the public through reports of expert committees, web-based resources, and other means of communication.
ILAR's 2021 Council is an appointed group of eight experts who oversee and advise the National Academies on activities within several animal research challenge areas and survey the field for pressing issues and potential initiatives. As part of this process, the council holds regular meetings that typically feature symposia, planning meetings, or expert meetings on current topics.
Petersen's scholarly work has focused on the recognition and prevention of zoonotic diseases, primarily the epidemiology and immunobiology of vector-borne and parasitic diseases, and most recently SARS-CoV-2.
She is the scientific program chair for the American Society of Tropical Medicine and Hygiene, and is the U.S./non-vector borne disease region representative to the international veterinary group that provides recommendations regarding treatment and prevention of infection with the zoonotic protozoan parasite, Leishmania infantum.
Petersen's collaborative group works in Brazil, India, and Ethiopia via NIH/Fogarty International Center and NIAID-funded research focused on understanding transmission routes and host species immune susceptibility for vector-borne zoonoses, including tick-borne and sand fly-borne diseases.
As director of the Center for Emerging Infectious Diseases, Petersen coordinates One Health activities focused on understanding, detecting, and preventing emerging zoonotic disease globally. As a professor, she teaches the One Health diaspora coursework related to the diagnosis, treatment, and prevention of infectious and particularly zoonotic diseases within all populations.