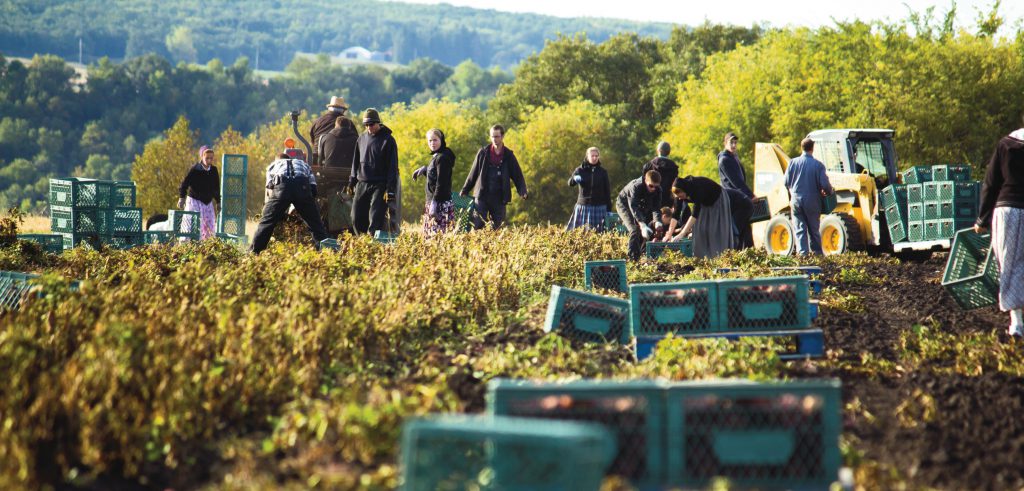 Farming is at the heart of many rural communities, including the Hutterite settlements in eastern South Dakota. The Hutterites are Anabaptists and share common roots with the Amish and Mennonites. They live communally in rural colonies of about 15 families and use modern technology to farm and produce goods. A grant from the University of Iowa Great Plains Center for Agricultural Health helped fund a farm safety outreach project tailored specifically to the Hutterite community.
The Avera St. Benedict Health Center in Parkston, S.D., has been providing health care services to the Hutterites for many years, and has established mobile clinic visits to the colonies. About two years ago, the St. Benedict medical staff noticed that the members of several colonies were receiving emergency/trauma care for agricultural injuries with increasing frequency. St. Benedict staff designed an outreach program, Safe Farming, Safe Living, to increase the awareness of farm hazards and to promote safe work practices among eight Hutterite colonies.
"The Hutterites are not only our patients, but our neighbors and community members," says Melissa Gale, a behavioral health provider with the mobile clinic. "After seeing some of the injuries, we approached them with the idea [for a safety program] and there was overwhelming support from the colonies. Since agriculture is their staple way to earn a living, they are invested in learning and keeping each other safe."
Financial support was provided by the Great Plains Center with organizational support from local agribusiness representatives and the South Dakota Department of Game, Fish, and Parks. The program held several events throughout the colonies in schools, dining halls, a machine shed, and even a butcher shop.
Emphasis was placed on developing and delivering culturally appropriate safety and health education that would be accessible to all colony members, regardless of age or language. Because younger children in the colony speak only German, local pre-school teachers participated as interpreters.
"Our strong relationship with the colony members through health care outreach allowed us to be welcomed to the colonies," adds Gale. "The kids and adults truly engaged in learning and were open minded to trying and following the safety practices."
The program reached more than 450 participants, and no major life-threatening agricultural injuries have been treated at the health center since the program began in 2015.