Public health without borders
By Debra Venzke
Published on April 5, 2016
Alumna Tala Al-Rousan (MPH '15) uses her public health training to understand and address the health needs of Syrian refugees and other vulnerable populations around the globe.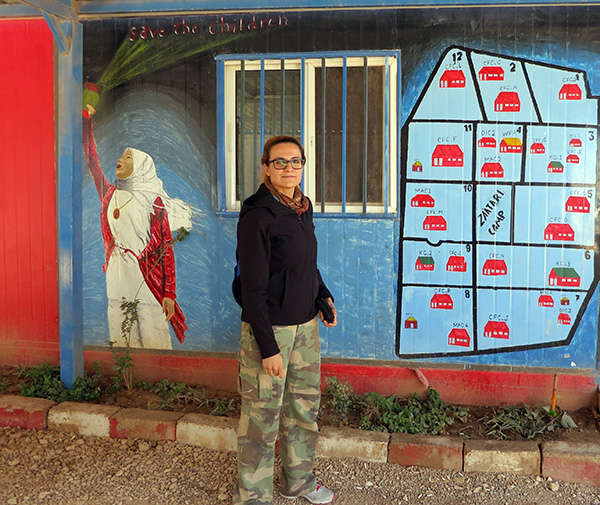 When Tala Al-Rousan was training to be a doctor, she often stumped her professors with challenging questions.
"Many things I asked during clinics or rotations couldn't be answered by physicians," Al-Rousan recalls. "They would tell me, maybe you should pursue a degree in public health because your questions are tackling social determinants of health, health disparities, and access to care."
Social activism and the health of vulnerable populations have always been important to Al-Rousan, who grew up in Jordan and earned her medical degree at Cairo University in Egypt. As a medical student, she engaged in many public health initiatives, including raising awareness against female genital mutilation in Egypt and promoting breast cancer screening education. After receiving her degree, she joined Doctors without Borders as a medical officer and served in Yemen for several months before she moved to the U.S. in 2011.
Her husband's job then brought her to the University of Iowa, where she enrolled in the MPH program in epidemiology.
"Data is the most powerful tool. I wanted to be equipped with the necessary tools to do quantitative research that would inform policies," says Al-Rousan about her program choice. At the UI, she conducted research with Robert Wallace, CPH professor of epidemiology.
Al-Rousan has "a personal level of commitment to those less fortunate," says Wallace. "Using a national U.S. database, Tala was able to write two papers on the health of older people living in mobile homes and the preparedness of older people for natural disasters. In both situations, she found that there were clear deficits in health status and in preparation for emergencies."
She also researched Iowa prisoners' health needs and participated in the Obermann Graduate Institute, a weeklong interdisciplinary program in which UI graduate students explore how public engagement can enhance teaching, research, and creative work.
The Syrian Refugee Crisis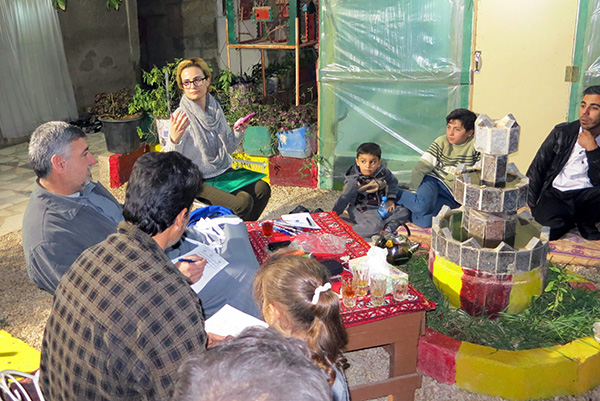 Al-Rousan is currently a Lown Scholar at the Harvard T.H. Chan School of Public Health and a project coordinator at Harvard Humanitarian Initiative. The Lown Scholars Program was established in honor of Dr. Bernard Lown, a Nobel Peace Prize laureate and a world-renowned cardiologist and activist whose career has advanced public health globally.
Al-Rousan is researching the impact of the Syrian refugee crisis on the health of refugees in Jordan, as well as the health of the host country's population. Since the conflict in Syria began in 2011, more than 4.8 million Syrians have sought refuge outside their home country, with millions more displaced within its borders. The United Nations has called the situation the worst refugee crisis since World War II.
Jordan, which shares borders with Syria, is providing asylum for an estimated 640,000 refugees, presenting significant humanitarian and economic challenges to the small country of limited resources.
In late 2015, Al-Rousan spent two months in northern Jordan, where she interviewed officials from hospitals, non-governmental organizations, and the Ministry of Health about refugees' health issues. She also conducted focus groups with refugees at Zaatari, the largest refugee camp in the Middle East. She used the information to develop a questionnaire for refugees so they could rank their health concerns.
Al-Rousan and her colleagues are currently analyzing the data to determine what the most pressing health concerns are to help guide priorities and allocate resources. A second phase of the project will use these findings to craft a public health intervention that would lessen the impact of this crisis globally.
Life in the Camp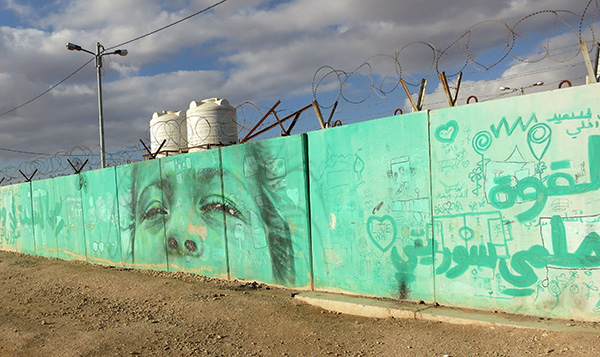 "It's like a big city," Al-Rousan says of Zaatari, which houses roughly 80,000 people. The camp has streets, schools, hospitals, a thriving (but unauthorized) market, tents, and trailers — all surrounded by razor wire-topped fences and guards. Services are unevenly distributed, and about 1 in 3 children don't attend school. Residents can't leave without permission and aren't authorized to work in Jordan, meaning many refugees have little to do but wait and hope they can return home someday.
"There are many health issues affecting this population, such as disease outbreaks, high rates of infant mortality, and others," notes Al-Rousan. Non-communicable diseases are the leading cause of death and remain difficult to manage. At the same time, measles, tuberculosis, and other diseases are re-emerging.
The preliminary results from Al-Rousan's research show that the burden of Syrian refugees is destabilizing an already strained Jordanian health care system. Jordan can no longer afford to pay for refugees' health care, so chronic diseases are inadequately treated.
There is also widespread stigma around seeking mental health care, even though "mental health issues are very common in war-affected communities," Al-Rousan says, adding that both children and adults have experienced immense trauma.
Building Trust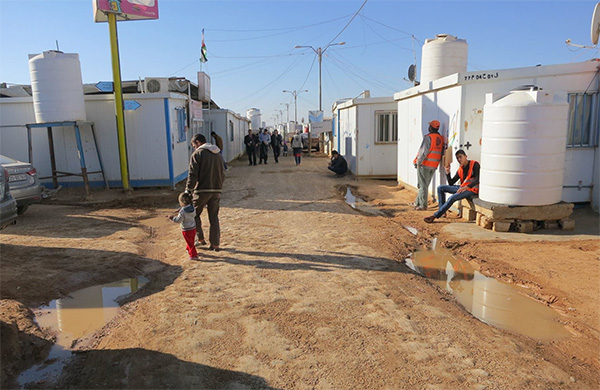 Building partnerships among different sectors was very important to her research, but very challenging, Al-Rousan says. Being fluent in Arabic helped significantly, as was her familiarity with Jordan. Equally important was "getting the government's blessing and help" with the project, she says.
Al-Rousan's research assistant, Zaker Schwabkey, who is based in Jordan, had many helpful personal connections as well.
"We worked with Syrians to identify people who were good at recruiting others," explains Al-Rousan, who spent a great deal of time meeting with and listening to various groups and stakeholders. "We had to build that trust relationship."
As for future steps, Al-Rousan plans to apply the research to refugee camps in other countries that share the same amount of refugee burden, such as Turkey and Lebanon.
"If similarities are found, then the results could be applied elsewhere," she says. "There's a huge need and huge opportunity for public health research on refugees all over the world. It is a public health disaster."
We All Are Connected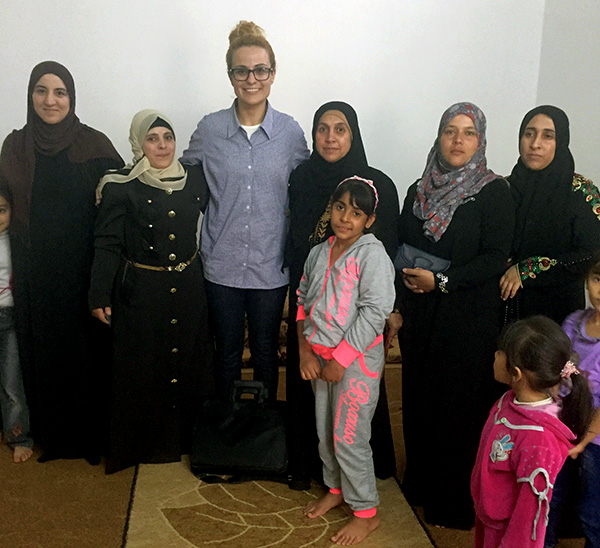 Public health translates across borders, something Al-Rousan urges students and practitioners to remember.
"You can still do global heath inside the United Sates. It doesn't have to be outside the U.S.," Al-Rousan says, citing work with homeless populations as one example.
"At Iowa, I also worked with prisoners during my practicum," she adds. "This really helped me to apply my skills in the refugee camp setting, because I think of refugees as prisoners, too."
She also stresses the value of public scholarship and community engagement, as well as keeping in mind the human stories behind the research.
"Syrian refugees are people like us – teachers, artists, engineers – who have been forced out of their country," says Al-Rousan. "We as public health practitioners understand how connected we all are. The Syrian crisis affects the entire world."
All photos courtesy of Tala Al-Rousan and Zaker Schwabkey
See more photos at the Lown Syrian Refugees Health Study Facebook page