Research suggests increasing charge types results in more convictions for alcohol-related motorcycle crashes
Published on September 21, 2022
Motorcycle fatality rates are increasing, and impaired driving is a major contributing factor. University of Iowa public health researchers say law enforcement officials aiming to reduce drunk driving have an effective tool at their disposal: 'Throw the book at 'em.'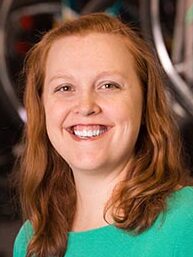 A new study of alcohol-involved motorcycle crashes in Iowa suggests that applying all relevant charges at the time of the crash leads to increased convictions, says Cara Hamann, assistant professor of epidemiology in the UI College of Public Health, who led the research.
"Traffic stops and the issuance of traffic charges are important tools law enforcement officers have available to discourage unsafe driving," says Hamann. "Understanding the effectiveness of impaired driving laws, in terms of charge and conviction outcomes, is important for informing prevention efforts."
The study looked at 480 alcohol-influenced drivers (428 motorcyclists and 52 other vehicle drivers) involved in motorcycle crashes between 2011 and 2018. The researchers categorized the types of traffic charges issued in these incidents as: alcohol charges (e.g., OWI, public intoxication); moving violations (e.g., failure to yield, improper merging); and administrative/miscellaneous charges (e.g., expired tags, invalid license).
In this study, more than three-quarters (78.5%) of the alcohol-influenced drivers received a charge of any type and 68.1% received an alcohol-related charge. This means that about 32% of alcohol-influenced drivers did not receive an alcohol-related charge.
Among drivers with any charge, 88.6% were convicted, and among drivers with alcohol charges, 87.2% were convicted on an alcohol charge. After adjusting for blood alcohol content, drivers with a combination of alcohol, administrative, and moving violation charges had more than three times the odds of conviction of any charge compared to drivers with alcohol-only charges.
"Police departments and individual officers don't know if recording additional infractions leads to a higher likelihood of the alcohol-related charges being dismissed in favor of conviction on the lower charges," says Hamann. "Our results showed convictions were more likely when the impaired driver was charged with multiple types of offenses than with a single offense."
Motorcyclists are overrepresented among roadway fatalities, accounting for over 5,500 deaths and 14% of all traffic fatalities in the United States in 2020, according to the National Highway Traffic Safety Administration. Motorcyclists also have the highest proportion of alcohol impairment in fatal crashes (29%) compared to all other vehicle drivers, including passenger cars (20%), light trucks (19%), and large trucks (2%).
In Iowa, motorcyclists account for 16% of fatalities, but only 0.41% of vehicle miles traveled, according to the Iowa Department of Transportation. Over 20% of all fatal and serious crashes in the state involve impairment.
The research appeared in the Journal of Safety Research. Other University of Iowa investigators include Linder Wendt, Jonathan Davis, Stephanie Jansson, and Joseph Cavanaugh.