Rohlman appointed Chair in Rural Safety and Health
Published on December 9, 2016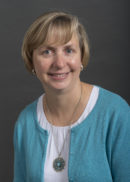 Diane Rohlman, associate professor of occupational and environmental health in the University of Iowa College of Public Health, has been appointed as the Endowed Chair in Rural Safety and Health.
Rohlman's research focuses on the health effects of occupational and environmental exposures, with emphasis on the increased workplace risks faced by younger employees. Her studies have examined agricultural workers in the United States and around the world, including research on the effects of pesticide exposure on adolescents and their developing nervous system. She also has studied how lifestyle factors, such as risk-taking, substance use, distracted behaviors, and fatigue or sleep deprivation, can impact safety on the job, as well as the effect of interventions directed toward supervisors and workplace policies.
A UI faculty member since 2012, Rohlman also directs the Healthier Workforce Center of the Midwest, a research and outreach center that is a collaborative partnership with Washington University in St. Louis and the Nebraska Safety Council. She is also the director of the Agricultural Safety and Health Training Program in the University of Iowa's Heartland Center for Occupational Health and Safety.
"Dr. Rohlman is both a dedicated educator and a gifted researcher." said Peter Thorne, professor and head of the Department of Occupational and Environmental Health. "She has brought new vitality to our agricultural safety and health graduate program and has greatly enhanced our research and engagement in the area of 'total worker health.'"
The appointment to the Endowed Chair in Rural Safety and Health is for a term of five years and may be renewed.
Rohlman plans to direct resources from the endowed chair to develop a collegiate initiative bringing together faculty, staff, and students from across the college to promote the safety and health of rural communities.
"Occupational and environmental exposures impact all people, however, certain populations are at greater risk, including children, young workers, and those working in hazardous industries," Rohlman says. "Agriculture is the primary industry in most rural areas around the world. As one of the three most hazardous industries, there are many risks associated with working in agriculture, including the risk of injury and exposure to chemicals."
As chair, Rohlman plans to continue to build the department's educational and outreach activities focused on rural health and safety, with emphasis on agricultural workers and their families. Existing initiatives include graduate training programs, as well as innovative continuing education programs which have reached practitioners throughout Iowa and the United States. Additionally, programs based in the Healthier Workforce Center of the Midwest provide resources for small employers — many located in rural areas — to promote safety and health in the workplace.
As a leader in agricultural safety and health education, Rohlman says the Department of Occupational and Environmental Health is rich with resources that can be integrated into the classroom.
"We're working to integrate practical hands-on activities that demonstrate safety and health principles with fundamental concepts presented in class," Rohlman says. "My goal is to provide students with the skills and knowledge they need to meet the safety and health challenges of their current and future work."