Rural Restaurant Healthy Options toolkit now available on CDC website
Published on February 6, 2019
A healthy options toolkit for rural restaurants that was developed by researchers at the University of Iowa College of Public Health's Prevention Research Center is now available on the Centers for Disease Control and Prevention website.
The Rural Restaurant Healthy Options Program helps customers make positive food choices by raising awareness of healthy menu options. This cost-effective intervention targets small owner-operated rural restaurants.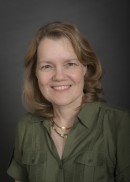 "From the very early stages of this project, our intent was to design a healthy eating intervention that even communities with few resources would be able to carry out," says Faryle Nothwehr, associate professor of community and behavioral health and lead researcher on the project. "Our hope is that with successful implementation of this fairly simple program, communities will gain the confidence and collaborative support to move forward with additional changes that will improve their food environment."
The on-line toolkit has templates for table signs, which encourage customers to make healthy choices from the usual menu. An optional window sign advertisement alerts the community to the program. The toolkit also includes tips for starting the program, a brochure for restaurant owners, a healthy options logo, and a press release template. The toolkit materials are free, but users must cover the cost of supplies.
A statewide study found that the program had positive effects on some customers' eating behaviors. One hundred non-chain restaurants in rural areas were invited to participate in the program, 28% were willing to adopt it, and the majority of restaurants kept the program for at least one year. For those restaurant customers who noticed the signs, 34% reported being influenced by them to make healthy choices.