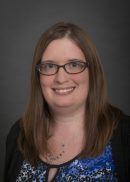 Kelli Ryckman, associate professor of epidemiology and pediatrics, will be the 2016 – 2017 State Hygienic Laboratory Environmental and Public Health Ambassador.
Ryckman, who specializes in understanding genetic and metabolic predicators of preterm birth, will serve in the honorary position to help raise awareness of the public health laboratory system and its role in assuring the health of Iowans.
An open house to welcome Ryckman is scheduled for 3 – 4:30 p.m. on Thursday, Aug. 4 at the State Hygienic Laboratory on the UI Research Park Campus in Coralville.
"Dr. Ryckman's research into how we can improve birth outcomes dovetails perfectly with the Hygienic Laboratory's focus on maternal and newborn screening," said State Hygienic Laboratory Director Christopher Atchison. "We look forward to expanding our work with Dr. Ryckman to further improve birth outcomes in Iowa."
Ryckman has authored many studies, including research of metabolic profiles and gestation. She collaborated with the State Hygienic Laboratory and the Iowa Newborn Screening Program on the study.
Also scheduled for 2 – 4:30 p.m. on Aug. 4 is a visit to the laboratory by the UI Mobile Museum, which brings university artifacts, research and interactive displays to communities across the state.  The Hygienic Laboratory's Ambient Air Quality program is featured in one of this year's displays. Since April 2016, the Mobile Museum has traveled 4,366 miles and attracted 10,413 visitors.