Skipping breakfast associated with higher risk of cardiovascular death
Published on April 24, 2019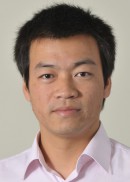 Eating breakfast every day has always been considered an important part of a healthy lifestyle, but a new study from the University of Iowa shows just how important it is.
The study, by Wei Bao, assistant professor of epidemiology in the University of Iowa College of Public Health, finds that people who never ate breakfast had an 87 percent higher risk of death caused by cardiovascular disease than people who ate breakfast every day. Published in the Journal of the American College of Cardiology, it supports the benefits of eating a daily breakfast in promoting heart health.
Bao says health care providers and dietary experts have known for years the importance of eating breakfast every day. The early-morning calories jumpstart the body's metabolism and give people the energy and nutrients needed to start the day. But despite evidence that suggests skipping breakfast leads to increased risk of obesity, high blood pressure, type 2 diabetes, and other health complications, fewer people report they are making the meal a part of their daily routine.
Bao says the new study is the first to evaluate breakfast's impact on the risk of cardiovascular death. Researchers used data from the National Health and Nutrition Examination Survey, an annual survey from the U.S. Centers for Disease Control and Prevention.
Selected Additional Media Coverage
Skipping Breakfast May Increase Stroke and Heart Risks (New York Times)
https://www.nytimes.com/2019/04/22/well/eat/skipping-breakfast-may-increase-stroke-and-heart-risks.html

Skipping breakfast tied to higher risk of heart-related death, study finds (CNN)
https://www.cnn.com/2019/04/22/health/skipping-breakfast-cardiovascular-death-study/index.html
Skipping a morning meal has higher risk of heart-related death, study says (USA Today)
https://www.usatoday.com/story/news/health/2019/04/23/skipping-breakfast-tied-higher-risk-heart-disease-death-study/3547295002/
Study Found Skipping Breakfast Linked To Increased Risk Of Cardiovascular Death (CBS Miami)
https://www.youtube.com/watch?v=zoZYey4yjfU
Skipping Breakfast a Bad Move for Your Heart? (WebMD)
https://www.webmd.com/heart/news/20190423/skipping-breakfast-a-bad-move-for-your-heart#1
UI study: skipping breakfast related to death by heart disease (KGAN)
https://cbs2iowa.com/news/local/ui-study-skipping-breakfast-related-to-cardiovascular-death
Want to Lower Your Risk for Heart Disease? Eat Breakfast Every Morning (HealthLine)
https://www.healthline.com/health-news/skipping-breakfasts-raises-your-risk-of-cardiovascular-disease
UI researchers find connection between not eating breakfast and increased risk of cardiovascular disease (Daily Iowan)
https://dailyiowan.com/2019/05/07/university-of-iowa-researchers-find-connection-between-not-eating-breakfast-and-increased-risk-of-cardiovascular-disease/