Study shows working in agriculture poses higher risk of developing dementia
Published on January 20, 2021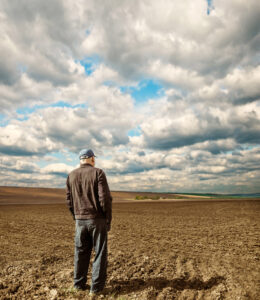 This first-of-its-kind study in the U.S. asks: Are agricultural workers at greater risk than non-agricultural workers of developing dementia? The answer, according to University of Iowa researchers is: "Yes."
University of Iowa researchers mined data from of the Health and Retirement Study (1998-2014), a longitudinal panel study that surveyed a representative sample of approximately 20,000 individuals over age 50 in the U.S. This new analysis explored whether rates of dementia and cognitive decline were different in older adults who had worked long-term in agriculture.
Investigators found that those who identified as having long-term occupations in the agriculture, fishing and forestry sectors had 46% greater odds of having dementia than those who did not. This finding was stronger among younger seniors, those who reported being fully retired, and those who had worked over 10 years at their longest-held job.
The results of this study – recently published in the peer-reviewed Journal Gerontology: Social Sciences (DOI: 10.1093/geronb/gbab005) – can help researchers develop effective interventions to protect older farmers.
"This study is both timely and relevant because farmers routinely work beyond standard retirement age, making them vulnerable to occupational injury. Additionally, a dementia diagnosis among farmers may be missed or delayed for a variety of reasons, causing even greater safety concerns," said Kanika Arora, PhD, Assistant Professor in the University of Iowa College of Public Health.
While researchers could not attribute the association to hearing impairment or depression – factors independently associated with both agriculture and dementia – the effect of pesticide exposure among agricultural workers may warrant further study.
"This is consistent with previous studies showing adverse associations between neurotoxicant exposure and these specific measures of cognitive performance," Arora said.
This study indicates that agricultural workers have lower resistance against the effects of dementia compared to people in professional or technical jobs. While the onset of the disease may be postponed due to higher resistance to damage to the brain among professional and technical workers, the rate of decline may be faster due to greater accumulation of brain pathology," said Arora.
This study was supported by the Great Plains Center for Agricultural Health at the University of Iowa (funded by the US CDC, U54 OH 007548)). For more information about how farmers get hurt and how to prevent these injuries, visit gpcah.org and select "resources" from the menu options.