The New Farm Crisis
By Debra Venzke
Published on February 24, 2020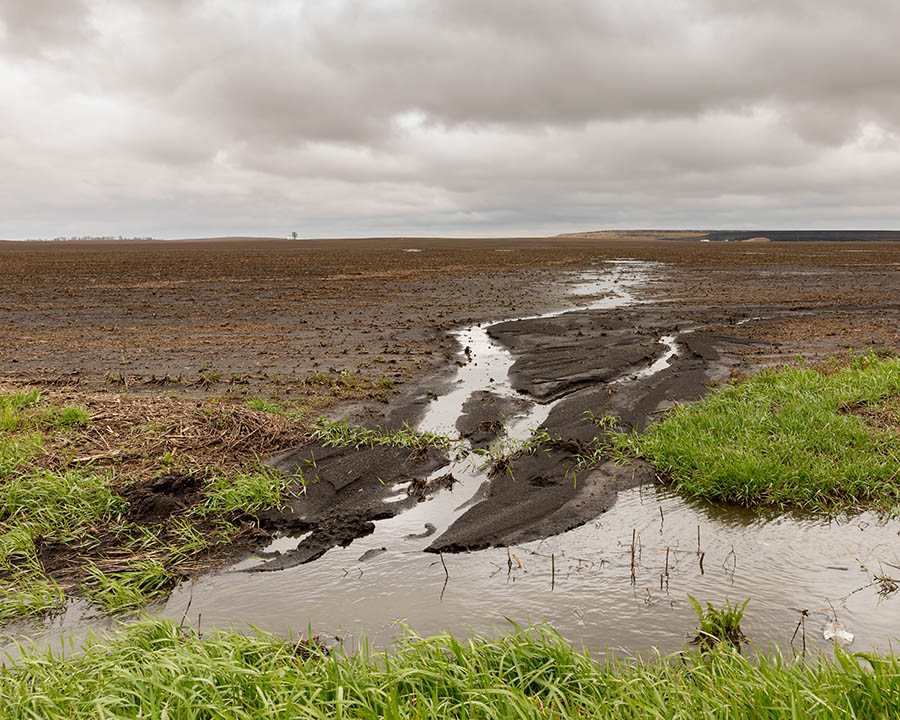 Iowa native and third-generation farmer David Weaver didn't always work the land. Before returning to his family's farm in 2006, he attended college, taught English in Japan, earned a master's degree, and worked as a college librarian.
He currently partners with his dad and a neighbor to farm nearly 2,000 acres in Boone and Greene counties in central Iowa, mainly raising corn and soybeans. He lives with his wife and daughter on the same acreage where his grandparents once lived.
Weaver was drawn back to farming in part because of the community, he says, but also because "the lifestyle and ability to be your own boss was appealing to me. I really enjoy the responsibility of making decisions on the farm. It's rewarding to be able to look back after a day of work and feel good about what you've accomplished."
A Perfect Storm
But along with the rewards of farming come many stressors—bad weather, low commodity prices, financial worries, long hours, and social isolation can all contribute to feeling overwhelmed.
While some of these pressures are part of the business, recent events such as record flooding and trade wars have created additional strain, notes Brandi Janssen, director of Iowa's Center for Agricultural Safety and Health (I-CASH) and CPH clinical assistant professor.
"This year has been a perfect storm of really challenging weather and of a particularly unstable political and economic system" that have led to reduced prices and a loss of markets, Janssen says.
When asked if she's hearing more about stress and mental health being a concern in agricultural com-munities, Janssen answers without hesitation: "Definitely."
"To some extent, there are similarities to the farm crisis of the 1980s," she continues. "What is new is the way organizations are responding and trying to be proactive in a way that they were not during the 80s. That, to me, feels like a significant difference."
Recognizing the Crisis
The severity of the current crisis came home for Weaver several years ago when a farmer who lived nearby took his own life. That event "opened my eyes to the fact that it can happen to anyone, anywhere," Weaver says.
Studies have found that suicide rates in rural areas are higher than in urban settings, a gap that has steadily increased over the past decade. Additionally, farmers have been iden­tified as a high-risk population, with suicide rates consistently above those of the general population.
The people most at risk of suicide tend to be middle-aged white men, which dovetails with the demographics of farmers," Janssen notes. "Farmers also have access to harm—the vast majority of farmer suicides are with firearms."
Rural residents face a number of barriers to accessing mental health care, including a lack of providers, insuffi­cient insurance coverage, stigma, and a culture of solving things on their own.
"Farmers are used to being inde­pendent and in control of things, so it can be challenging for them to ask for help," Janssen says.
In October 2019, U.S. Sens. Chuck Grassley (R-Iowa) and Jon Tester (D-Mont.) introduced the Seeding Rural Resilience Act, which aims to curb the rising rate of farmer suicides in America.
"Farmers are increasingly feeling the pain of sinking commodity prices, devastating natural disasters, and ongoing trade disruptions," Grassley stated in a press release. "That, coupled with the largely solitary nature of farming, has led more and more family farmers to desperation and feelings of hopelessness. This should not be the case. This bill continues important efforts to raise awareness about this issue and provide the assistance necessary to encourage farmers and their families during difficult times."
Rural Resources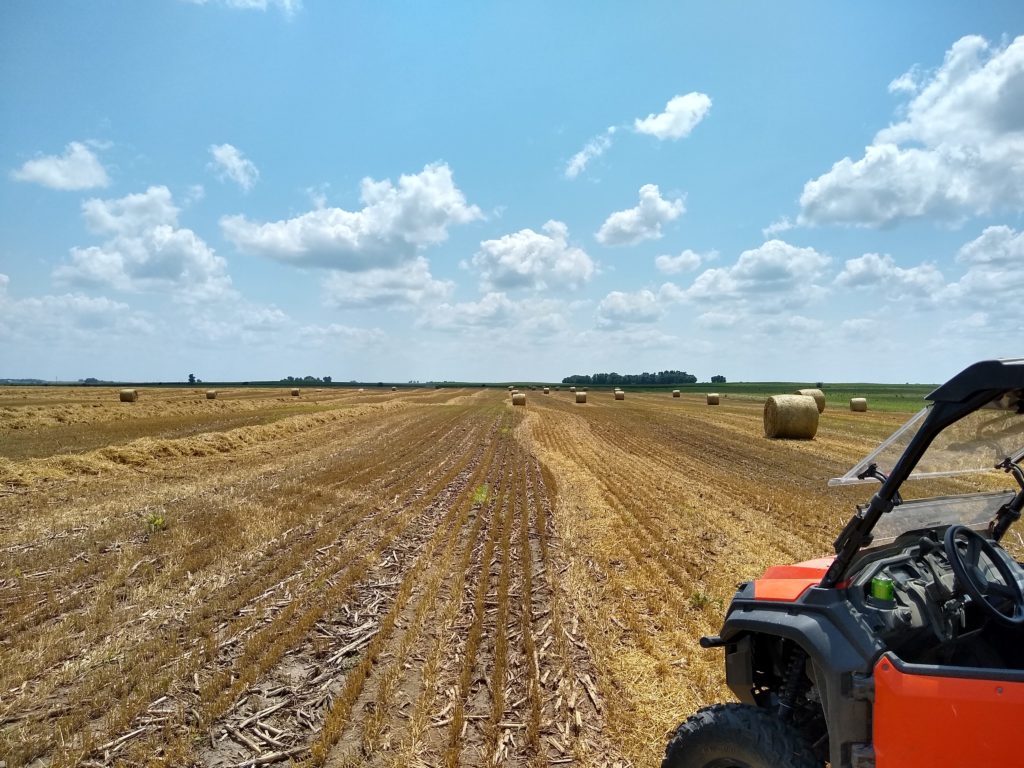 I-CASH and the Great Plains Center for Agricultural Health (GPCAH), directed by CPH professor T. Renée Anthony, are working together, with producers, and with numerous partners around the state and region to provide resources and facilitate connections that address farmers' stress and suicide risk.
I-CASH has produced and distributed a number of resources, including a brochure that compiles statewide crisis and suicide prevention hotlines; infor­mation about QPR, a short training program that teaches community members how to recognize the warning signs of suicide and refer someone to help; and a video on suicide prevention in rural Iowa.
This spring, I-CASH and GPCAH co-sponsored the Rural Mental Health Roundtable for Iowa stakeholders. Partners included the Iowa Department of Agriculture and Land Stewardship, CommUnity Crisis Services, and repre­sentatives from producer groups, Iowa State University Extension, and mental health service providers. Participants discussed on-farm stressors and options for training community members in QPR and Mental Health First Aid. They also recommended developing a "pocket card" listing signs of stress and referral resources that field agents can hand out to farmers who might be struggling, which I-CASH then created.
A pilot grant from GPCAH helped fund TransFARMation, a podcast and radio program produced by the Minnesota Department of Agriculture and the Red River Farm Network focusing on on-farm stressors. The podcasts have reached at least 35,000 listeners and thousands more have heard the radio broadcasts.
"We are tremendously concerned about the mounting levels of stress in agriculture," says grant recipient Meg Moynihan from the Minnesota Department of Agriculture. "Our project shares stories of ways farmers experience and cope with financial, emotional, mental, and other stresses. Listeners find out they're not alone and learn about resources that could help."
GPCAH also promoted National Mental Health Awareness month in May, and in August hosted a session on agricultural stressors and mental health concerns in farming communities. The session was attended by the public as well as staff and volunteers from CommUnity Crisis Services, which helps operate many mental health hotlines in Iowa and nationally.
Informing mental health providers about agriculture can help close an important knowledge gap, Janssen says.
"Most people know very little about farming, even if they're from a rural area," Janssen notes. She cites a recent presentation she conducted for mental health providers in Poweshiek County, Iowa. "They said, this is work we don't know a lot about. They know it's not 9 to 5, but they don't really know what type of work farmers do. They're not familiar with the financial aspects of farming, from how farm programs work to the level of debt that is present in farming, to how astonish­ingly expensive the equipment is."
The more providers know about farming, the better they can under-stand and advise clients who work in agriculture.
Stay Connected
Farmers pour their hearts and souls into their work, often carrying on a generations-long legacy. The pres­sures of mounting debt, unpredictable weather, and low prices while strug­gling to hold on to the family land can be crushing.
"Farming is a cultural identity, it's not just a job," Janssen says. "You don't want to be the one to lose the family farm."
Experts urge anyone experiencing distress or suicidal thoughts to talk to someone—a friend, family member, clergy member, health provider—or to contact one of the many crisis hotlines available 24/7 by call, chat, or text.
The headline on the resource card handed out to farmers reads You Are Not Alone—Stay Connected, a message Anthony wants to emphasize.
"We need to encourage farmers to talk about stresses and remove the stigma and expectations of conquering problems alone," she says. "Help and support are available."
————–
Farm Stress Resources
https://icash.public-health.uiowa.edu/farm-stress-resources/
Mental Health Month Materials
https://gpcah.public-health.uiowa.edu/mental-health-awareness-resource/
Podcast
https://www.rrfn.com/transfarmation/
This story originally appeared in the fall 2019 issue of InSight magazine