Workshop will focus on advancing worker health and safety
By Cindy Hadish
Published on March 1, 2017
An upcoming workshop will examine ways to advance scientific research into worker health and safety, and develop recommendations to guide the design of future studies.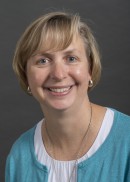 The Total Worker Health® Research Methodologies Workshop, to be held be March 7-8, 2017, at the University of Iowa College of Public Health, 145 N. Riverside Dr., Iowa City, will convene a distinguished group of nationally and internationally known experts in worker safety and health, research design, and health communication.
Diane Rohlman, PhD, associate professor of occupational and environmental health and director of the Healthier Workforce Center of the Midwest, based at the University of Iowa, says the ultimate goal is to create a safe, healthy, and productive workforce.
"We know there's more and more evidence that work impacts overall health," she says, citing obvious hazards, including chemical exposures, to less apparent factors, such as having a stressful job or an aggressive co-worker. "What is it about the work environment that we can control to decrease some of these hazards?"
Advancing worker well-being
The National Institute for Occupational Safety and Health (NIOSH) defines Total Worker Health® as policies, programs, and practices that integrate protection from work-related safety and health hazards with promotion of injury and illness prevention efforts to advance worker well-being. NIOSH is the federal institute that conducts research and makes recommendations for preventing work-related injuries, illnesses, and deaths, under the U.S. Centers for Disease Control and Prevention (CDC.)
The workshop will include a video message from NIOSH Director Dr. John Howard to welcome the experts collaborating on the Total Worker Health® prevention approach.
"Integrated interventions that collectively address worker safety, health, and well-being help to align with the recognition that work influences overall health," Howard says. "The Total Worker Health® philosophy advocates for the integration of occupational safety and health protection in the workplace, advancing overall worker health and well-being through the elimination or control of workplace hazards."

The Healthier Workforce Center of the Midwest – a partnership of the UI College of Public Health, Washington University in St. Louis, and the Nebraska Safety Council – is hosting the workshop.
Rohlman says the workshop will address recommendations and goals set forth in a previous National Institutes of Health "Pathways to Prevention" workshop.
Strengthening research
Experts from across the country will discuss design limitations in Total Worker Health ® research; appropriate control groups in studies to assess the effectiveness of interventions; guidelines for selecting comparison groups; and more.
Rohlman notes that literature of worker health studies on integrated interventions is sparse, with the effectiveness of those interventions and outcomes unclear.
Some studies address health and safety outcomes, such as physical and psychological well-being, health symptoms, and stress, while others address intermediate health outcomes, including tobacco cessation, weight, blood pressure, eating behaviors, and hazardous work exposures.
With limited evidence to determine overall harms or benefits of integrated interventions, however, it is difficult to assess their effectiveness, Rohlman says.
Workshop participants will develop a core set of measures and outcomes to be incorporated into all integrated intervention studies and expand research and evaluation design options to include rigorous methodologies.
Rohlman says part of the focus will include identifying methods that can be replicated across all sizes of businesses. Smaller businesses, in particular, have higher injury rates, she notes, which is often attributed to having fewer resources to devote to health initiatives.
Participants also will come up with standard methods to determine if the interventions to decrease exposures to work hazards are working or not, and develop guidelines for researchers to replicate and compare studies.