Training the next generation of injury professionals
Published on April 15, 2020
Cara Hamann, assistant director for education at the University of Iowa Injury Prevention Research Center (IPRC), helps connect students with research projects that focus on improving safety and preventing injuries. Gaining real-world research experience helps students prepare for their future careers.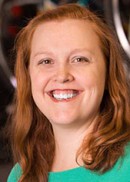 "Injury and violence prevention is a growing field in the area of public health, and progress in the field depends on the availability of well-trained injury professionals," says Hamann, who is also a clinical assistant professor of epidemiology in the UI College of Public Health. "Our center provides students with opportunities to learn hands-on skills in research and collaboration."
The University of Iowa IPRC is one of ten injury "Centers of Excellence" funded by the National Center for Injury Prevention and Control in the Centers for Disease Control and Prevention.
Robyn Espinosa, a doctoral candidate in occupational and environmental health, is one of the students conducting research through the IPRC. Her work examines the links between adverse childhood experiences and the juvenile justice system. "I hope my research sheds light on the need to understand the full picture of why youth misbehave and commit delinquent acts," she says. "Hopefully, this leads to improving the justice system and programs offered to detainees."
Espinosa's research is helping her build valuable skills. "The IPRC has members from the various departments within the College of Public Health. The center also reaches out to other colleges at the UI and organizations in the Iowa City area and beyond," she says. "This helps me as a student build confidence in starting research because many cases are team efforts that require collaboration with other supportive researchers."
Kayla Faust, a recent doctoral graduate in occupational and environmental health, studies ways to prevent farm equipment-related crashes. She also says that working with the IPRC during her time as a student provided a wealth of opportunities. "The hands-on experiences I gained in grant writing, data analysis, outreach activities, and professional presentations were incredible and the relationships I've formed with the other students, faculty, and staff are invaluable and lifelong," Faust says.
In addition to her work with the IPRC, Hamann also researches transportation safety and global injury prevention. She teaches courses on global road safety and an introduction to epidemiology data management and analysis.
"Working with students to help build their skills for success in public health is not only integral to our mission to prevent and control traumatic injuries and violence, but is also very rewarding for everyone involved," Hamann says.