UI College of Public Health, Cornell College create new dual degree
Published on May 23, 2017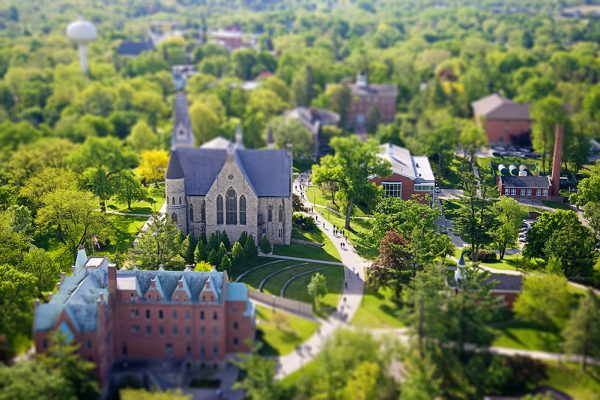 The University of Iowa and Cornell College are teaming up to give students more opportunities, enhancing their prospects for careers and graduate study with a new dual-degree program in public health.
What started out as a discussion among Cornell faculty about interest in a new public and global health program is now becoming a reality as the two schools officially announce the kickoff of the new collaborative program. It will lead to a Master of Public Health degree in just five years, instead of the typical six years.
"This agreement will save students time and money as we get them on the fast track to getting their Master of Public Health degree," said Cornell Professor of Biology Barbara Christie-Pope, who helped develop this new program. "We are thrilled to work together with the UI College of Public Health to give our students more opportunities."
University of Iowa leaders said the new dual-degree program reflects the two institutions' shared values and commitment to improving the wellbeing of communities.
"We are thrilled to start this new journey," said Anjali Deshpande, director of the Master of Public Health degree program in the UI College of Public Health. "Cornell's priorities of knowledge, inquiry, reasoning, communication, intercultural literacy, ethical behavior, citizenship, vocation, and well-being completely align with the mission of public health. This is a wonderful opportunity to bring our institutions together to train the next generation of public health professionals and strengthen public health in Iowa and beyond."
Cornell students enrolling in this program will earn a bachelor's degree from Cornell and a master's degree from the University of Iowa.
"Our new partnership with the UI College of Public Health will provide a wonderful opportunity for Cornell students from a wide variety of majors who are interested in pursuing a graduate degree in public health," said Cornell College Vice President for Academic Affairs and Dean of the College Joe Dieker. "Public health is a booming field with many career options for graduates of the program."
Those who graduate from the program will be prepared for a variety of careers related to public health, such as epidemiology, biostatistics, community and behavioral health, occupational and environmental health, or health policy.
Students in this program will take four online courses offered by the UI College of Public Health during their time at Cornell, which will count toward their undergraduate degrees. After graduation, students will complete two semesters at the College of Public Health with the goal of having a master's degree in hand by the end of the fifth year.
Cornell students of any major will be considered for admission into the dual-degree program, which will happen with an application submitted by Feb. 1 of their junior year.
For more information, visit www.public-health.uiowa.edu/undergrad-to-grad/ and cornellcollege.edu/public-health/.
Photo courtesy of Cornell College