UI joins CDC-funded center focused on insect-borne diseases
Published on February 17, 2017
The University of Iowa is among a group of Midwestern universities taking part in a new regional center focused on improving the understanding of and public health response to diseases transmitted by mosquitoes, ticks, and fleas.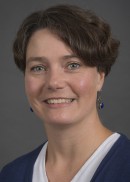 The Upper Midwestern Center of Excellence in Vector Borne Diseases, funded by a $10 million grant from the Centers for Disease Control and Prevention (CDC), will develop research and training programs to address diseases such as Zika, West Nile, and Lyme disease.
Led by personnel at the University of Wisconsin–Madison, the center includes experts from the University of Iowa College of Public Health, University of Illinois, Iowa State University, University of Michigan, and Minnesota Department of Health.
Christine Petersen, DVM, PhD, associate professor of epidemiology and director of the Center for Emerging Infectious Diseases at the University of Iowa, will lead the UI's involvement.
"Our role is to help train students in Iowa for a Certificate in Public Health Entomology and to increase the knowledge of vector-borne diseases in the Upper Midwest," says Petersen. Students will be recruited from Iowa universities and the public health workforce.
"About half of the students who come into the epidemiology program at the UI identify infectious diseases as an area of interest. This new training and certificate program will be an outstanding opportunity for them to pursue that interest," Petersen adds.
In addition to teaching and training students, Petersen and her colleagues will help identify practicum and Master of Public Health capstone experiences for students at the University of Iowa and Iowa State University with an interest in vector-borne diseases.