UI receives CDC grant to continue cancer prevention research
Published on October 17, 2019
University of Iowa researchers have been awarded a $1.6 million grant from the Centers for Disease Control and Prevention (CDC) to continue as a collaborating center in the Cancer Prevention and Control Research Network (CPCRN).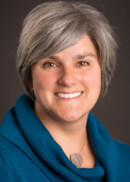 Natoshia Askelson, assistant professor of community and behavioral health at the University of Iowa College of Public Health, is the principal investigator.
The CPCRN at the University of Iowa is based in the College of Public Health's Prevention Research Center (PRC) and is focused on disseminating evidence-based interventions to address cancer disparities in rural communities in Iowa and the U.S.
Continued participation in the CPCRN will allow researchers to support three goals over the next five years:
Expand existing national and local collaborations to accelerate further the adoption of proven effective interventions for cancer screening and prevention in rural areas.
Improve uptake of the HPV vaccine by adapting and testing proven effective interventions in small, rural health systems.
Reduce cancer risk by preventing rural youth from using cigarettes and e-cigarettes through the adaptation and testing of evidence-based interventions.
The other participating CPCRN centers are located at Emory University, the New York University School of Medicine, the University of Arizona, the University of South Carolina at Columbia, the University of Colorado-Denver, the University of North Carolina-Chapel Hill, and the University of Washington.