UI researchers study public health impact of Iowa City landfill fire
By Teresa Lopes
Published on March 5, 2015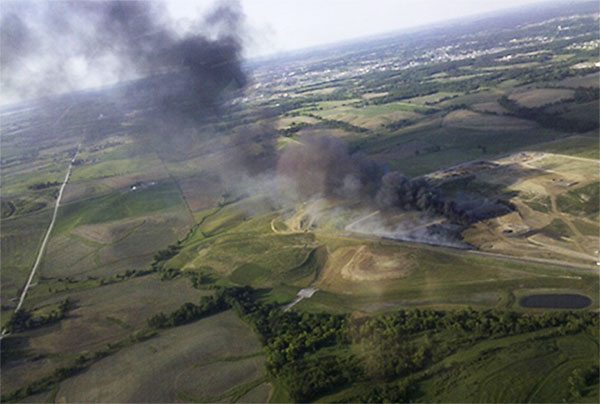 On May 26, 2012, a fire broke out at Iowa City's municipal landfill. While more than 8,000 landfill fires occur annually in the United States, the Iowa City fire was unusual in that the ignition involved the landfill's lining system, a three-foot layer of shredded tires designed to protect underlying soil and water.
Over the next 18 days, while fire fighters and contractors worked to extinguish the blaze, a column of black smoke was visible for miles as an estimated 1.3 million tires burned.
Researchers at the University of Iowa, including associate professor of occupational and environmental health Tom Peters, an expert in inhalation exposures, joined the Johnson County Department of Public Health and state agencies in responding to the crisis.
UI researchers monitored emissions from the fire at two stationary sites located 6.5 miles east and 2.5 miles northeast of the landfill. A mobile sampling trailer was also moved as needed to capture the tire fire smoke. The investigators created models of how pollutants were likely to disperse and affect local air quality, and made measurements available to the incident command group so they could advise the public on necessary safety precautions.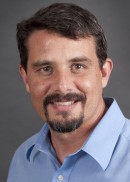 "Tire fires are relatively rare, and there is not a consensus as to what compounds should be monitored for the best public health response," says Peters.
The UI team took the opportunity to determine potential improvements to the air quality response in terms of how to monitor such fires. They developed a unique tire fire irritant air quality index to interpret the measured pollutants and rank them by acute and cancer hazard ratios. These measures help responders determine when they should take precautions such as closing schools and canceling outdoor events.
Fortunately, the impact of the 2012 fire was episodic, and much of the smoke plume was dispersed by winds. However, all locations within one mile of the fire experienced at least one hour of unhealthy air during the 18-day period. Unhealthy conditions extended up to 11 miles downwind for short periods of time. While several toxic substances had been measured in laboratory simulations of tire fires, the UI results determined their strength under real-world burn conditions.
One UI recommendation from the tire fire is to shift focus away from the most-commonly recognized tire fire emissions, which include metals and the toxic gas benzene. Instead, overall levels of smoke particles, the gas sulfur dioxide, and the chemical components of the smoke particles may be more important in terms of health effects.
The UI team concluded that the landfill fire constituted a serious public health concern. They offered recommendations for future emergency air quality responses, including better preparation, monitoring, modeling, and interpretation of results. The team's findings were published in the journal Atmospheric Environment.