The University of Iowa Women in Science and Engineering (WiSE) program has announced fall semester award recipients of its Dr. Eunice Schuytema Beam Travel Grant Program.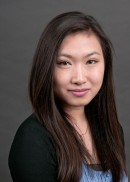 The Beam Travel Grant award winner for fall 2016 received a $700 grant toward travel to a professional meeting to present scholarly work. The fall 2016 recipient:
Hongqian Wu of Zhejiang, China, a doctoral student in the Department of Biostatistics in the College of Public Health, delivered a presentation, Proportional Likelihood Ratio Mixed Model for Longitudinal Discrete Data, at the 10th ICSA International conference in Shanghai, China, in December 2016.  She also graduated in December 2016 and is now working for Novartis in the New Jersey area.
The WISE Travel Grants and Scholarships are awarded each fall and spring semester following the schedule and guidelines found on the WISE Website: www.uiowa.edu/~wise/. For further information about WISE, contact Linda Varvel, Co-Director for On Campus Programs, at (319) 355-3511 or at linda-varvel@uiowa.edu.