University of Iowa names Michael Pentella as interim SHL director
Published on January 23, 2018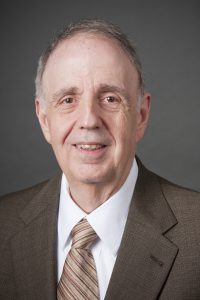 Michael Pentella, a clinical professor of epidemiology in the University of Iowa College of Public Health and former associate director of the State Hygienic Laboratory (SHL), has been named the SHL interim director, the University of Iowa Office of the Vice President for Economic Development (OVPRED) announced in December.
Effective on Dec. 18, Pentella's part-time appointment temporarily fills the role of director previously held by Christopher Atchison whose retirement was effective Jan. 5.  Atchison was granted status as Director Emeritus of the State Hygienic Laboratory as well as Clinical Professor Emeritus at the University of Iowa College of Public Health.
Pentella is the former director of the William A. Hinton State Laboratory Institute in Massachusetts. Prior to that, he served as associate director of infectious disease for SHL, where he was responsible for bacteriology, virology, serology, parasitology and mycology, and was actively involved with bioterrorism preparedness, antimicrobial resistance and pandemic influenza planning.
The interim director's career spans more than 40 years in clinical microbiology and public health laboratory science. In 2016, SHL named Pentella the seventh recipient of its William J. Hausler Career Achievement Award, which recognizes a lifetime of achievement and professional activities that extend beyond the laboratory, and greatly impact the field of public health.
That same year, Pentella received the Outstanding Alumni Award from the University of South Florida College of Public Health where he earned a Ph.D. in infectious disease. He received a Master of Science degree in clinical microbiology from Thomas Jefferson University, and a Bachelor of Science degree in microbiology for the Ohio State University.
Pentella is board certified as a Diplomat in Medical Microbiology through the American Society for Microbiology (D(ABMM)). His national appointments include the Association of Public Health Laboratories (APHL) Infectious Disease Committee, the APHL Biosafety and Biosecurity Committee, and the American Society for Microbiology Lab Practices Committee.
The OVPRED is leading a search committee for a permanent director of the State Hygienic Laboratory.
About the State Hygienic Laboratory
The State Hygienic Laboratory at the University of Iowa is the Iowa's environmental and public health laboratory, serving all 99 counties by testing for and tracking infectious diseases and illnesses; performing newborn and maternal screening; and monitoring the air, water and soil for environmental contaminants. Each year, the Hygienic Laboratory conducts more than 500,000 public health tests for Iowans and an estimated 250,000 additional tests for clients outside of the state.
The State Hygienic Laboratory is based in Coralville, Iowa on the University of Iowa Research Park Campus with additional laboratories in Ankeny and Milford.  More information about SHL is available on the State Hygienic Laboratory website.