A University of Iowa team has been approved for a $100,000 funding award through the Eugene Washington PCORI Engagement Awards (Engagement Awards) program, an initiative of the Patient-Centered Outcomes Research Institute (PCORI). The funds will support a two-day conference on "Increasing Research Engagement and Capacity in Addressing Rural Perinatal Mortality and Morbidity" in April 2021.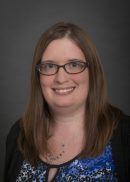 Kelli Ryckman, associate professor of epidemiology in the University of Iowa College of Public Health, will lead the engagement project. The project will focus on convening PCORI-funded research groups and stakeholders, including patients, health care providers, and health system leaders, to accelerate research and community engagement on maternal mental health in rural communities.
Depression during the perinatal period is the most common complication of pregnancy and childbirth, affecting 1 in 8 women in the United States. Recent study findings show that substance abuse and mental health conditions, namely overdose and suicide, are among the leading causes of maternal mortality.
The Iowa team will draw upon the regional expertise of patients, researchers, and stakeholders in the planning and delivery of the convening conference. The work will be co-lead by Karen Tabb Dina, an associate professor at the University of Illinois at Urbana-Champaign in the School of Social Work. Tabb Dina is also the founder of the Identifying Depression through Early Awareness (IDEA) Women's Health Coalition.
"I'm excited to work with stakeholders from a broad range of communities including patients, clinicians, researchers, health systems, and training institutions to convene this conference on maternal mental health in rural communities," Ryckman says. "The goal of this work is to develop a network of patients and researchers within rural health systems to collaboratively engage as partners in future research on maternal mental health to reduce its burden on maternal morbidity and mortality."
The conference is part of a portfolio of projects that PCORI has funded to help develop a community of patients and other stakeholders equipped to participate as partners in comparative clinical effectiveness research (CER) and disseminate PCORI-funded study results. Through the Engagement Award Program, PCORI is creating an expansive network of individuals, communities and organizations interested in and able to participate in, share, and use patient-centered CER.
According to Jean Slutsky, PCORI's Chief Engagement and Dissemination Officer, "This conference was selected for Engagement Award funding because it will bring together patients and other stakeholders to explore critical issues related to CER and communicate PCORI-funded research findings to key stakeholders."
Ryckman's project and the other projects approved for funding by the PCORI Engagement Award Program were selected through a highly competitive review process in which applications were assessed for their ability to meet PCORI's engagement goals and objectives, as well as program criteria. For more information about PCORI's funding to support engagement efforts, visit http://www.pcori.org/content/eugene-washington-pcori-engagement-awards/.
PCORI is an independent, non-profit organization authorized by Congress in 2010 to fund comparative effectiveness research that will provide patients, their caregivers, and clinicians with the evidence needed to make better-informed health and healthcare decisions. PCORI is committed to seeking input from a broad range of stakeholders to guide its work.