Vakkalanka awarded American College of Epidemiology's Annual Student Paper Prize
Published on October 23, 2020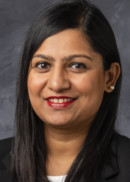 Priyanka Vakkalanka, a University of Iowa PhD student in the Department of Epidemiology and occupational epidemiology trainee with the UI's Heartland Center for Occupational Health and Safety, was recently selected as the 2020 recipient of the American College of Epidemiology's Annual Student Paper Prize.
Vakkalanka's paper examines the effectiveness of treating opioid use dependence (OUD) in veterans with buprenorphine, an opioid agonist medication. Her research team conducted a study to determine whether treatment with buprenorphine was associated with mortality, and to determine whether risk of mortality varied by length of time from last known treatment.
The study found that those who were not on buprenorphine were over four times more likely to die by suicide/overdose compared to those on treatment on any given day, and this risk did not significantly vary by time since last treatment.
"This study adds to the growing body of evidence that buprenorphine treatment works and may have long-term beneficial health impacts," says Vakkalanka.
As recipient of the Student Paper Prize, Vakkalanka's research paper will be granted expedited review for possible publication in the Annals of Epidemiology.
The American College of Epidemiology is the professional organization dedicated to continued education and advocacy for epidemiologists in their efforts to promote good science and the public health.