Visiting Thai Professor Cherishes Her Iowa Connections
By Tony Craine
Published on June 24, 2014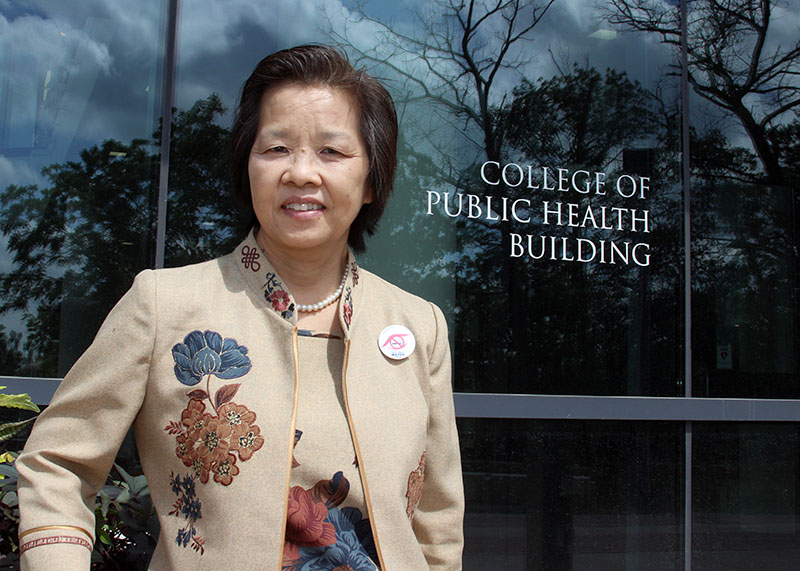 As she embarks on a three-month visiting professorship at the University of Iowa, Naowarut Charoenca can't help but appreciate the value of relationships — those developed over a lifetime, as well as the new ones she looks forward to cultivating with colleagues in the College of Public Health.
Charoenca, an associate professor at Mahidol University in Bangkok, Thailand, is a pioneering environmental health researcher who has helped to foment a movement to study tobacco use and control in her home country.
"I'm interested in visiting with Professor Peter Thorne from the Department of Occupational and Environmental Health and meeting the outreach team of the Environmental Health Sciences Research Center (EHSRC)," says Charoenca. "The EHSRC has a project dealing with frac sand. Particulates is an aspect of that, and back home I have been concentrating on particulate matter from secondhand smoke indoors. I'd also like to speak with Professor William Field from occupational and environmental health, who is an expert in radon measurement."
Charoenca's path to this May-to-July post at the UI has been a zig-zag of trips between Thailand and the United States that began in 1975-76, when she spent the school year in Cresco, in northeast Iowa, as an American Field Service exchange student.
Later, as a college student doing volunteer work in refugee camps in Thailand, her memories of relationships with Cresco's "wonderful people, their kindness sincerity, warm feelings, and hospitality" led to a friendship with a fellow volunteer, an environmental health specialist named Stephen L. Hamann from Elkader, also in northeast Iowa.
"He said, 'I haven't met anybody in Thailand who knows Iowa, not to mention northeast Iowa!'" Charoenca recalls. The two later married. "We come back here quite often, almost every year."
Along the way, they studied together at the University of Hawaii, where Charoenca earned a master's degree in public health and a doctorate in environmental health. When the couple returned to Thailand, the nation was embroiled in a "tobacco war" brought on by an influx of imported foreign cigarettes.
Charoenca and Hamann began conducting a wealth of research on tobacco use and the effects of smoking on the Thai population. They were supportive in the early establishment of the Thai Health Promotion Foundation, which uses funding from a government 'sin tax' to encourage awareness of tobacco and alcohol abuse.
Since 2003, Charoenca has been a member of the Society for Research on Nicotine and Tobacco, the source of another key professional relationship — with the organization's 2008 president, Sue Curry, dean of the UI College of Public Health. Curry invited Charoenca to work at the UI for the summer. "I have long admired her and Dr. Hamann's work in tobacco," Curry says.
The Department of Community and Behavioral Health along with the Department of Occupational and Environmental Health are co-hosting Charoenca's visit.
"We consider ourselves incredibly fortunate to be able to host Dr. Charoenca and benefit from her expertise and research experiences," says Edith Parker, professor and head of community and behavioral health. "She's working with us on an outreach project with Dr. Peter Thorne's Environmental Health Sciences Research Center and also sharing her experiences with faculty and learning about their current research projects."
Charoenca says she's also interested in exploring options for exchange programs or collaborative research between Iowa and Mahidol University.
Charoenca never forgets the power of encouraging those kinds of ties, professionally or personally. In her office in the College of Public Health Building, she proudly holds up a pair of envelopes hand-addressed to her.
"Can you believe it?" she says. "Since I've been here, I've received two letters from my 95-year-old former teacher in Cresco. "That's why I love being here. A good relationship means a lot to me."