Watching for Spillovers
Published on January 6, 2023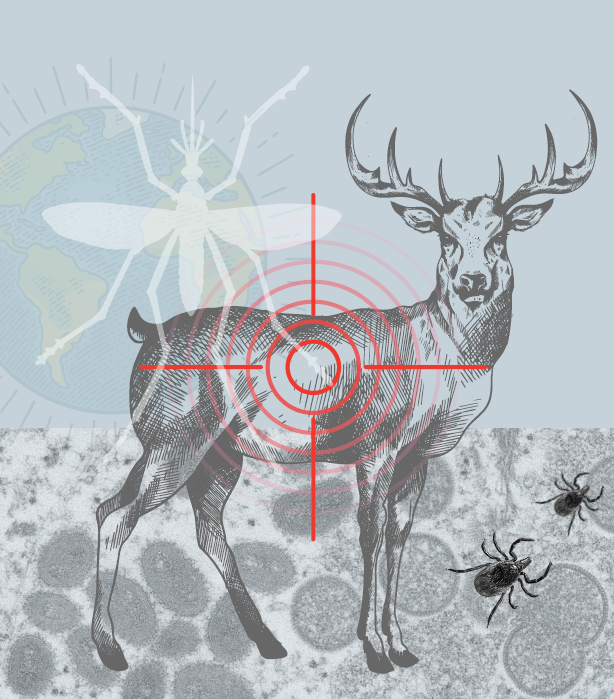 Professor Christine Petersen and her colleagues study ways to track and prevent emerging infectious diseases, particularly those that spread between animals and people.
By Debra Venzke
MPOX IS THE LATEST infectious disease to capture global attention, joining an increasingly lengthy list of worrisome pathogens such as Ebola, Zika virus, and, of course, SARS-CoV-2. While humans have always had to contend with diseases, new threats seem to be popping up with increasing frequency around the globe.
Christine Petersen, CPH professor of epidemiology, studies zoonotic diseases—infections that spread between people and animals. She also directs the Center for Emerging Infectious Diseases (CEID), where interdisciplinary teams focus on research and training in cross-cutting emerging infectious diseases, particularly those that are zoonotic. The center is operated by faculty from the University of Iowa and the Veterinary College at Iowa State University.
The CEID has earned a national reputation for excellence in zoonotic disease research in the areas of vector-borne disease (disease spread by insects such as mosquitos and ticks); anti-microbial resistance; and environmental, occupational, and wildlife exposures to infectious diseases.
Petersen and the CEID apply the idea of One Health in their work. One Health is a collaborative, transdisciplinary approach with the goal of achieving optimal health outcomes recognizing the interconnection between people, animals, plants, and their shared environment.
A Global Concern
With so many new health threats in the headlines, are there more emerging infectious diseases affecting humans than in the past, or is the discovery of new diseases the result of better surveillance?
"The number of emerging and zoonotic infections has been increasing throughout the last couple of decades," Petersen confirms. "I think there are a lot of reasons for it, and, honestly, better surveillance is not the main one."
One major factor is global travel and commerce. "Humans are moving around the globe much faster and more frequently than we ever have," she says. "Our trade is much more global, so we have planes, ships, and cargo containers that can easily transport mosquitos, small rodents, or bats from other places. We are trading various creatures that can carry the infections."
Petersen also points to the effects of climate change on emerging infections, particularly vector-borne diseases. Warming temperatures and milder winters make it easier for West Nile virus, Lyme disease, and other infectious diseases to expand into new locations and infect more people.
Drought, flooding, and loss of habitat forces wildlife to move into closer contact with humans. Likewise, as people leave their homes due to natural disasters, civil unrest, or urbanization, they may push into uninhabited land, increasing the risk of cross-species transmission. Poor water quality and increased stress can also increase people's susceptibility to infections.
"All of these factors are setting up the possibility of a spillover of an animal disease into people that much more," Petersen says.
Shifts in Surveillance
Despite the increasing threat of spillovers, global disease surveillance programs have undergone significant reshuffling.
PREDICT, a project of USAID's Emerging Pandemic Threats program, was formed in 2009 to strengthen global capacity for detection of viruses with pandemic potential that can move between animals and people. PREDICT initiated One Health Surveillance, "a transdisciplinary collaborative approach to understanding infectious disease risk at the animal-human interface," according to its web site. However, in early 2020, PREDICT was closed by the Trump administration.
In August 2020, the National Institute of Allergy and Infectious Diseases (NIAID), part of the National Institutes of Health, announced the establishment of the Centers for Research in Emerging Infectious Diseases (CREID). NIAID intends to provide the global network approximately $82 million of support over five years.
"Although there are some partners on the veterinary side, it's going back to our traditional human-focused disease surveillance needs. So that's what's disappointing," says Petersen about the switch to CREID. "We're having pandemics and infections coming from animals, but we're not really thinking in new ways about how to reach across the health fields to do this in a true One Health way."
Midwest Monitoring
Closer to home, a number of diseases are being monitored in the Midwest. As a top producer of hogs and poultry, Iowa is especially alert to influenza.
"Flu is a real interest because it affects all those animals and they can spread it from themselves to people," says Petersen. The flu of most concern is called highly pathogenic avian influenza, she says, adding that this form of influenza "kills poultry quite readily, but doesn't do as well in people."
But, in a worst-case scenario, "it just needs a couple of mutations, and it could go from something that doesn't infect people well into something that can, so that's why we have surveillance happening at all times," she says.
Another disease being watched in the Midwest is chronic wasting disease (CWD). "This disease is in deer in Michigan and Wisconsin, so we are finding some infected deer in northeast Iowa," Petersen explains. "It's not a virus, but a prion."
Prion diseases, such as CWD and Mad Cow Disease, can affect both animals and humans. Prions are pathogenic agents that can cause abnormal folding of specific proteins in the brain. The abnormal folding leads to brain damage and neurologic changes. To date, there have been no reported cases of CWD infection in people, but in areas where CWD is known to be present, the CDC recommends that hunters take precautions.
Fighting Lyme Disease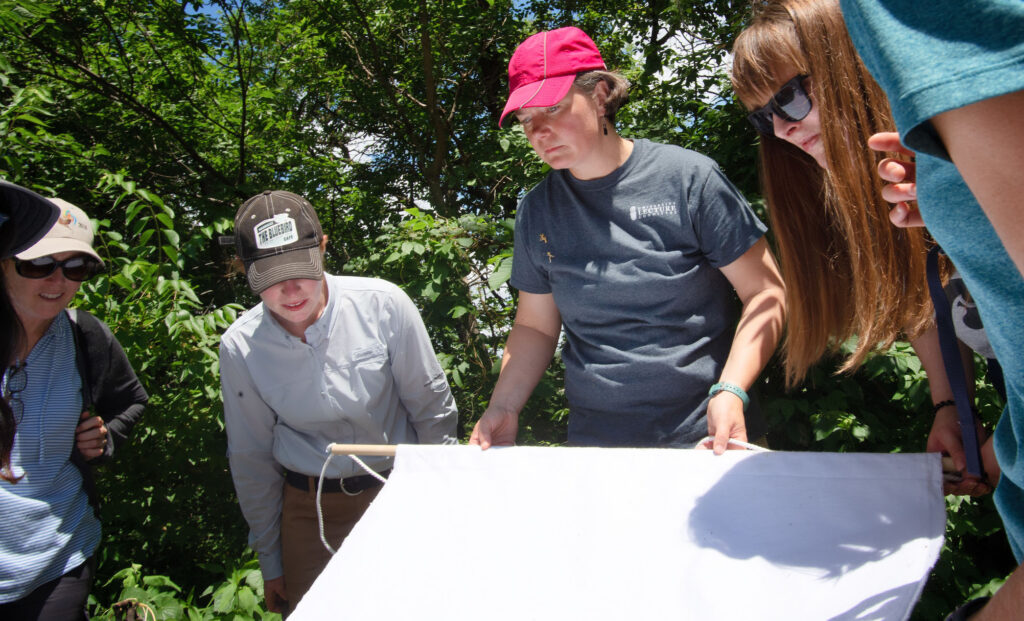 Lyme disease, a tick-borne illness caused by the bacterium Borrelia burgdorferi, is found in the eastern United States and Upper Midwest. Although it's difficult to know exactly how many people get Lyme disease, one estimate based on insurance records suggests that each year approximately 476,000 Americans
are diagnosed and treated for Lyme disease.
Petersen is a co-investigator on a NIH-funded study of a Lyme disease intervention.
"I'm working with a collaborator at the University of Tennessee, Professor Maria Gomes-Solecki," she says. "She has developed an oral bait vaccine that basically uses the ecology of Lyme disease to get rid of it. When mice eat this oral bait, they make antibodies against one of the outer surface proteins of Borrelia. Then when a tick feeds on that mouse, those antibodies bind to the Borrelia that cause Lyme disease and gets rid of it. We're basically getting the Lyme disease out of the ticks. That means you can still get a tick bite, but it isn't going to give you Lyme disease."
The researchers are using dogs as stand-ins for human exposure to infected ticks, since both dogs and people are similarly active outdoors.
"We're asking people to walk their dogs in a specific area where we put out the bait," Petersen explains. "We want to see if, by doing this intervention in those ticks, dogs get less disease."
Grant Brown and Jacob Oleson, both faculty from the UI Department of Biostatistics, are providing data support for the five-year study, now in its third year.
The oral bait vaccine—which is inexpensive and easily distributable—could have a huge impact on reducing the burden of Lyme disease in people and animals. And since Lyme disease is the most common vector-borne disease in the United States, that's welcome news.
This article originally appeared in the Fall 2022 issue of InSight magazine
Photo illustration by Leigh Bradford