Working through chaos: Iowa research details how the pandemic affected employee well-being
By Debra Venzke
Published on June 6, 2022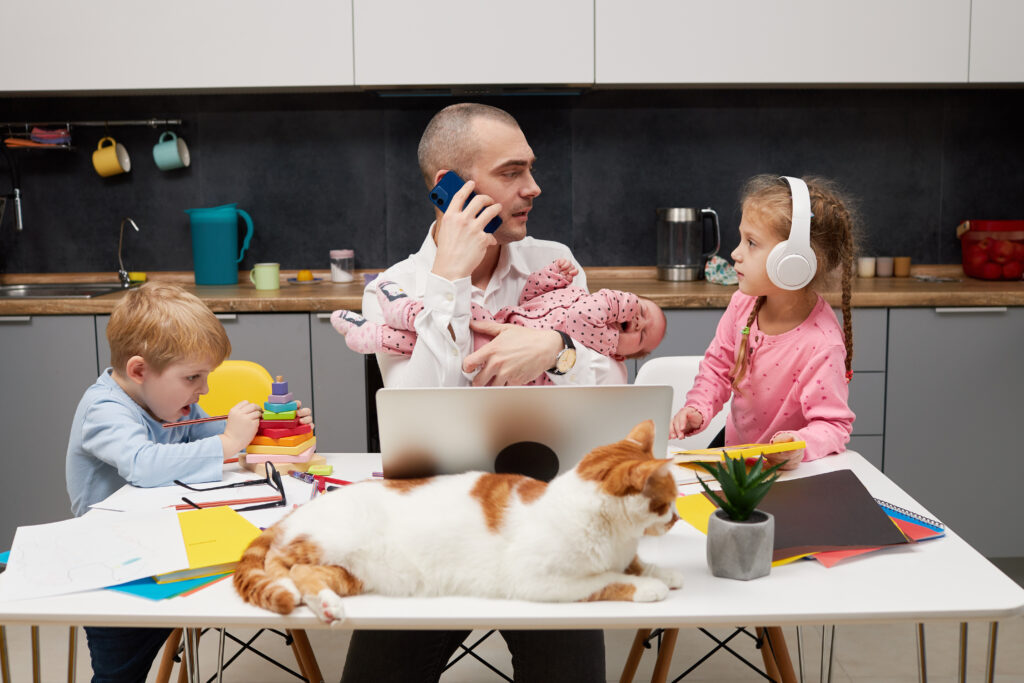 WHEN THE COVID-19 PANDEMIC SWEPT into the Midwest in March 2020, the University of Iowa quickly directed its non-essential employees to work from home. Jill Wiley, a research development coordinator at the university, was five months pregnant when she began working remotely.
By the time her daughter was born in July, the U.S. had surpassed 3 million COVID cases and many employees continued to work from home. As the months ticked by, Wiley and her husband faced the daily challenges of combining at-home childcare with remote work.
"My husband and I gave each other coverage to have focused work time, but otherwise trying to juggle a baby or toddler while on Zoom was really hard," says Wiley.
The pandemic caused major disruptions in the professional and personal lives of millions of people. Researchers with the Healthier Workforce Center of the Midwest (HWC) are exploring how the pandemic affected the work arrangements, health, and well-being of University of Iowa employees.
The center, housed in the College of Public Health and directed by Diane Rohlman, professor of occupational and environmental health, is one of ten Total Worker Health Centers of Excellence funded by the National Institute for Occupational Safety and Health.
A Unique Opportunity
Early in the pandemic, HWC researchers recognized that the University of Iowa presented a unique opportunity for studying how the COVID crisis affected workers' well-being.
"We have a major university hospital that has had to bear a huge brunt of Iowa's COVID response. We have students and employees. It's such a complex organizational structure with lots of different policy goals," says Beth Livingston, HWC team member and assistant professor of management and entrepreneurship in the UI Tippie College of Business. By gathering local data, the team could compare the results to global and national trends in employee well-being.
The HWC surveyed University of Iowa employees four times between May 2020 and April 2021. The web-based surveys were sent to faculty, staff, and postdoctoral researchers. Across the surveys, about half of all UI employees responded (11,755 unique participants).
The researchers looked at four different well-being outcomes over time: overall well-being, professional fulfillment, emotional exhaustion, and depression/anxiety/stress. Workers were grouped into one of three categories: on-site clinical (health care workers), on-site non-clinical (facilities, student services, and other in-person employees), and remote workers.
Tracking Well-being
The first survey conducted May to June 2020 showed that changes due to COVID-19 had a strong negative impact overall on employees' well-being. As the pandemic disruptions dragged on, the second survey conducted August to September 2020 showed employees' ratings of their well-being sank even lower.
"That was the roughest time period for university employees," says Livingston. "People were scrambling to figure out school, childcare, and teaching."
Workers' well-being improved slightly around December 2020 to January 2021 when the third survey was conducted. COVID-19 vaccines became more widely available in early 2021, and the fourth survey in April 2021 showed that well-being had increased.
"There was a lot of hopefulness as we approached spring 2021," Livingston says. "There was much less stress and better well-being. Then the Delta variant happened."
Demographic Differences
The research team found that remote employees consistently reported better well-being overall than both clinical and non-clinical on-site workers.
"We're currently doing follow-up research, but the reason for that better well-being is likely because remote and hybrid workers felt a better sense of control over the situation than on-site workers," says Livingston.
The researchers also looked at demographic factors and outcomes. Women reported significantly worse depression, anxiety, and stress than men and significantly higher emotional exhaustion, but there were no differences between men and women in overall well-being or professional fulfillment scores. The surveys found no significant differences among racial and ethnic groups in well-being outcomes.
Across the surveys, workers under 40 reported worse well-being than other age groups. Conflict from work interfering with family was most strongly associated with emotional exhaustion among workers under 40, but increased workload was also critical.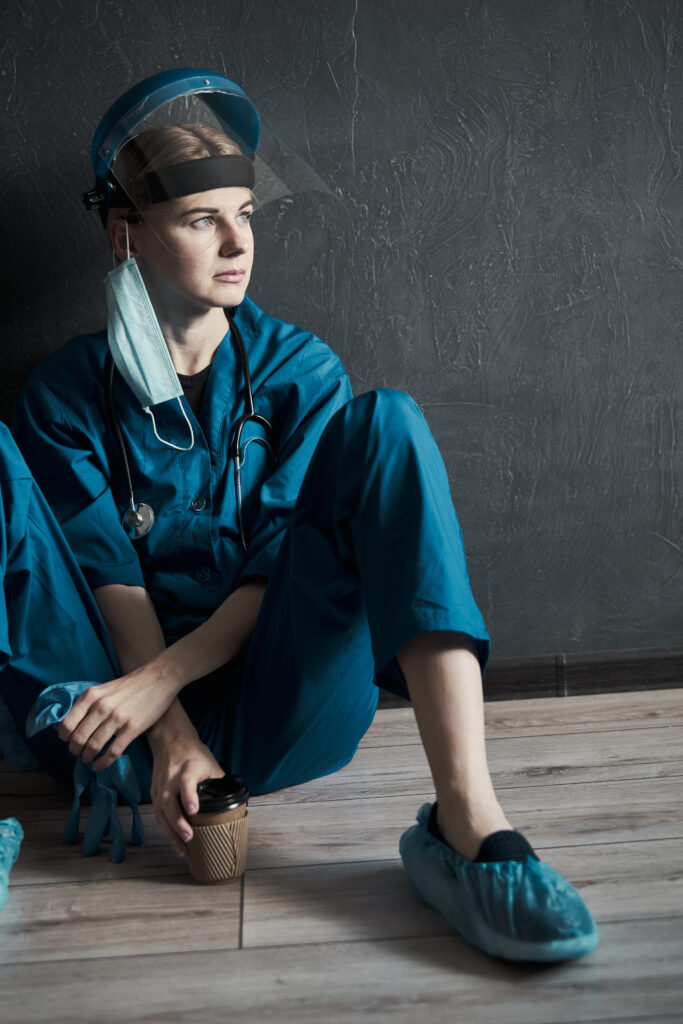 Caregiving Burden
The surveys also revealed that workers with caregiving responsibilities fared worse than their non-caregiving counterparts.
"People with children at home or who were taking care of elders more frequently identified with negative emotional states," says Jonathan Davis, HWC team member and research assistant professor of occupational and environmental health. "Specifically, people with children had higher levels of stress, and people taking care of elders had higher levels of anxiety. Having to take care of their family members and worry about their well-being was impacting how they were personally feeling."
Davis also explored the effect of alternative work arrangements on the well-being of workers with children. "They overwhelmingly had better experiences," he says. "We saw a measurable improvement in stress, anxiety, and depression by having these alternative arrangements that allowed people to have some flexibility and control over their work."
Wiley, the university employee juggling work and parenting duties, found this to be true. "Kids introduce a lot of chaos into a typical schedule," she says. "I was given a lot of support and flexibility by my supervisor to work off hours and weekends, which really helped."
Stressed-Out Supervisors
The survey data showed that people with remote management responsibilities reported lower well-being than non-supervisors who worked remotely.
"Supervisors were struggling with an additional stressor on top of everything else, which was, How do I figure out how to manage people remotely?" says Livingston. "How do I know employees are working?"
In response, the HWC and Tippie College of Business hosted two webinars on managing remote workers, one geared toward the UI community and another aimed at a regional audience.
"Research has shown that supervisor well-being and worker well-being are really linked together," says Rohlman. Some key lessons for managers, she says, are having trust in your employees and creating a structure that supports different employees.
"We all work differently," she says. "Some people want a more hands-on approach, so they may need more check-ins. Others don't want to have as much of that."
Inspiring New Ideas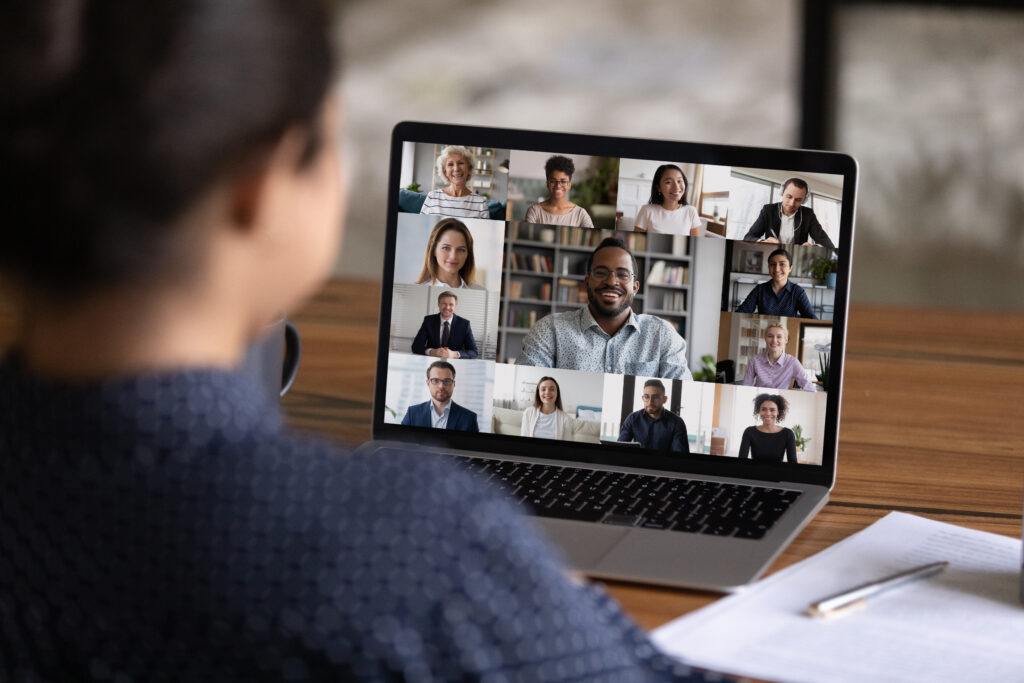 The information gathered from the surveys has provided a jumping-off point for additional research.
"It's inspired a lot of important research questions that our team is trying to look at, whether it's caregiving burden, remote management, or other components around age and professional development," says Livingston.
One such endeavor is already underway. A project addressing supervisors of remote workers was included in the HWC renewal application. Livingston is the principal investigator of the $1.1 million grant funded by the Centers for Disease Control and Prevention to investigate better methods of training supervisors to manage remote workers, focusing on both productivity and worker well-being.
The survey results were also shared with University of Iowa leadership and human resources. The information helped inform The Future of Work@Iowa project, which aims to reimagine how and where University of Iowa employees work after COVID-19. It's focused largely on understanding the long-term potential for remote and hybrid work, flexible schedules, and other types of work arrangements.
"The university has recognized that for recruitment and retention issues, it's important that we allow hybrid or remote work," says Rohlman. "In order to be competitive and attract people, that's a really important factor."
Going Forward
The pandemic accelerated changes in how and where we work, as well as how we think about our jobs and what matters to us.
"People want more work-life balance," says Rohlman. "Allowing remote work or some flexibility in where, how, and when employees do their work benefits people and gives them a sense of control.
"We've always known that work organization and the environment of work impacts health and safety, which in turn impacts well-being, but the pandemic forced us into rethinking all of that," she continues. "We now need to think about what we learned that we can apply going forward, and not just fall back into what we did because it's the way we've always done it."
This story originally appeared in the spring 2022 issue of InSight.