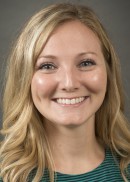 College of Public Health alumna Wensday Worth (18MPH) has been selected to participate in the Health Communications Internship Program (HCIP) with the National Cancer Institute in Rockville, Maryland.
The National Cancer Institute (NCI) is the federal government's principal agency for cancer research and training and is the largest of the 27 institutes and centers comprising the National Institutes of Health.
Worth will work with the communications team within the Center for Biomedical Informatics & Information Technology to facilitate internal communication between researchers, staff, and the larger NCI. She will also work on collaborative communication with the public about the Moonshot Cancer program and increasing accessibility to cancer data.
The HCIP was developed in 1975 to attract individuals interested in careers in health communications and science writing and to help raise public awareness about new cancer treatments, support for cancer patients and their families, and prevention strategies.