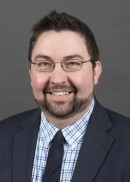 In recognition of his significant contributions to research literature in the field of health services, Brad Wright, assistant professor in the Department of Health Management and Policy, has been selected as the recipient of the 2016 John D. Thompson Prize for Young Investigators. The prize will be presented during the Association of University Programs in Health Administration (AUPHA) Annual Meeting Award Luncheon on Friday, June 24, 2016, in Kansas City, Mo.
The prize was established to honor John D. Thompson, a professor of health administration, who set high standards in teaching, commitment to learning, collegial relationships, and health services research. It is awarded to faculty from AUPHA members programs whose work, which may be in any of the several fields of disciplines, contributes to knowledge in health services.
Wright was nominated by Jonathan Oberlander, professor and chair of social medicine and professor of health policy and management at the University of North Carolina-Chapel Hill. Oberlander remarked, "His career has gotten off to a tremendous start thanks to his hard work and strong research and publication skills, and he has already made important contributions to the field, yet I firmly believe the best is yet to come."
Wright earned an MS in health policy from George Washington University before entering the PhD program in health policy and management (with a concentration in health politics and policy) at the University of North Carolina School of Public Health. After receiving his PhD from UNC-Chapel Hill in 2011, Wright went to Brown University as a postdoctoral fellow in health services research at the Center for Gerontology and Health Care Research under the mentorship of Dr. Vince Mohr. In 2012, Wright joined the faculty at the University of Iowa.
According to Oberlander, "Brad's research to date has focused on underserved populations and their access to medical care, Medicare and Medicaid, and community health centers, which he studied for his dissertation. Brad's work on community health centers is an exciting, innovative, theoretically rich, and methodologically sophisticated project that speaks to important issues in health policy and organizational theory."
"I am truly honored to be the 2016 recipient of AUPHA's John D. Thompson Prize for Young Investigators," Wright said of the award. "The field of health services research is perhaps more important today than it has ever been, and the work we do to inform policy and practice is instrumental to ensuring access to affordable, high quality care for everyone."