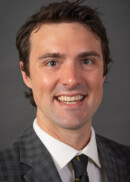 Department: Health Management and Policy
Social: LinkedIn page
Year of intended graduation: 2024
Hometown: Carroll, Iowa
Education: BSc Finance, Morningside College; Master's in Public Policy (MPP), University of Chicago
Research interests: Investigating the effects of health policy variation on changes in access, utilization, and outcomes. Experience conducting quasi-experimental and survey design research. Interested in specializing research evaluating policies mitigating rural cancer disparities.
Current activities:
Pre-Doctoral NIH Fellow College of Dentistry
Rural Cancer Collaboratory Member
Graduate & Professional Student Government Grants Director
University of Iowa Family Issues Charter Committee Member
University of Iowa College of Public Health Undergraduate Capstone Case Writer
Iowa Public Health Association Member
American Society of Clinical Oncology (ASCO) Member
American Association of Cancer Research (AACR) Member
AcademyHealth Member
Health Equity in Action Lab (HEAL) Member
Past Presentations:
November 17, 2020 – Midwest Rural and Agriculture Health Conference
June 1, 2020 – American Society of Clinical Oncologists Annual Meeting
November 15, 2019 – 11th Annual Heartland Global Health Conference
September 21, 2019 – 12th AACR Conference on The Science of Cancer Health Disparities in Racial/Ethnic Minorities and the Medically Underserved
September 19, 2019 – Training Research to Eliminate Disparities (TREND) Meeting (Susan G. Komen Foundation)
March 12, 2019 – 7th Annual Symposium on Global Cancer Research  (National Cancer Institute and Consortium of Universities for Global Health)
March 7, 2019 – Janet D. Rowley Research Day (University of Chicago Department of Medicine)
December 4, 2018 – Inaugural IPHAM Population Health Forum (Northwestern University Institute for Public Health and Medicine)
October 23, 2018 – Sixth Annual Research Symposium and Poster Session (University of Chicago Center for Chronic Disease)
Publications:
Semprini, Jason, Wei Lyu, Dan M. Shane, and George L. Wehby. (2020_. "The Effects of ACA Medicaid Expansions on Health After 5 Years." Medical Care Research and Review, https://doi.org/10.1177/1077558720972592.
Semprini, Jason, Ulrich, Fred, Mueller, Keith (2020). Telepharmacy Rules and Statutes: A 3-Year Update for all 50 States. RUPRI Center for Rural Health Policy Analysis. https://rupri.public-health.uiowa.edu/publications/policybriefs/2020/telepharmacy_brief_2020.pdf
Semprini, J., & Olopade, O. (2020). Evaluating the Effect of Medicaid Expansion on Black/White Breast Cancer Mortality Disparities: A Difference-in-Difference Analysis. JCO Global Oncology, 6. https://doi.org/10.1200/GO.20.00068
Semprini, Jason (2020) "Expanding the Capacity of Rural Cancer Care With Teleoncology," Online Journal of Rural Research & Policy: Vol. 15: Iss. 2. https://doi.org/10.4148/1936-0487.1101
Semprini, J. (2020). A systematic review on the health of African immigrants in the United States: Synthesizing recommendations for future research. International Journal of Migration, Health and Social Care, Vol. 16 No. 2, pp. 121-136. https://doi.org/10.1108/IJMHSC-02-2019-0021
Semprini, J., & Vaughan-Sarrazin, M. (2020). Breast density notification with adjunctive digital breast tomosynthesis (DBT): A cost-effectiveness analysis. Journal of Clinical Oncology, 38(15_suppl), 7072–7072. https://doi.org/10.1200/JCO.2020.38.15_suppl.7072
Semprini, J., Olopade, O. (2020). Can health system engagement facilitate greater utilization of genetic tests to predict cancer risk? A health disparities exploration of national survey data [abstract]. AACR; Cancer Epidemiol Biomarkers Prev 2020;29(6 Suppl_2) https://cebp.aacrjournals.org/content/29/6_Supplement_2/B059 (full-text preprint: http://dx.doi.org/10.6082/uchicago.2541)
Semprini, Jason (2020). Emergency loans to dental organizations during the COVID-19 pandemic. Journal of Dental Economics. https://www.dentaleconomics.com/macro-op-ed/op-ed/article/14186788/emergency-loans-to-dental-organizations-during-the-covid19-pandemic