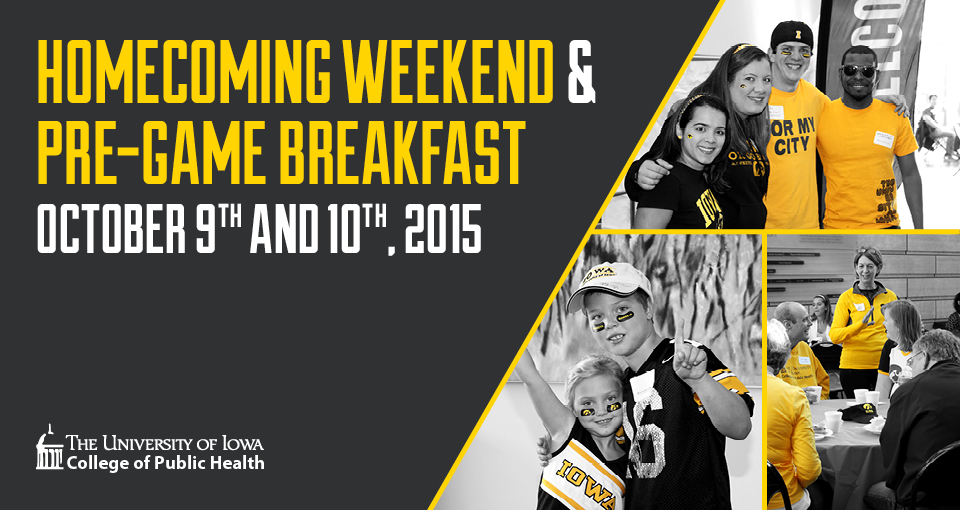 Join us for Homecoming Weekend 2015!
Friday, October 9
UI Homecoming Parade
5:45 pm in downtown Iowa City. Visit the homecoming website for more information about the parade and specific events.
Saturday, October 10
UI College of Public Health Pre-Game Breakfast
8 a.m. at College of Public Health Building, 145 N. Riverside Drive
Attend the annual family-friendly FREE pre-game breakfast and reconnect with classmates, faculty, friends, and current students. More details to come!
Be sure to RSVP
Iowa vs. Illinois Football Game
11 a.m. at Kinnick Stadium
Football Tickets
Homecoming football ticket access instructions and purchasing information will be included in your confirmation email when you sign up to attend the pre-game breakfast. Tickets are $65 each (plus $4 handling charges) and offered on a first-come, first-served basis with a limit of 2 tickets per CPH alumnus.
2015 College of Public Health Outstanding Alumni Award Recipients
The University of Iowa College of Public Health is pleased to announce the recipients of the college's 2015 Outstanding Alumni Awards.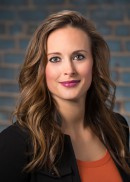 Lindsay Parker, CIH, CSP, MS, received her master's degree in occupational and environmental health/industrial hygiene from the University of Iowa in 2007 and is currently serving in a dual role as both the North Health and Safety Team Leader and as the corporate Health Team Leader for BP U.S. Lower 48 in Houston, Texas. She manages a highly experienced team of occupational health nurses, industrial hygienists, and safety advisors who support 1,700 employees working in six states. This team recognizes, evaluates, and controls workplace hazards ranging from asbestos, benzene, noise, and radiation while also managing medical surveillance and safety programs across the business. In 2010, she provided comprehensive industrial hygiene support for the oil spill in the Gulf of Mexico and was recognized for her outstanding leadership, dedication, collaboration, and communication skills in a highly stressful environment. She is active in the Houston community volunteering for several organizations including the Special Olympics and the United Way.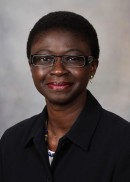 Rosebud Roberts, MB ChB, MS, earned her master's degree in preventive medicine and environmental health from the University of Iowa in 1990, following a degree in medicine at the University of Ghana Medical School in Accra, Ghana. She is currently a professor of epidemiology and neurology at the Mayo Clinic College of Medicine in Rochester, Minn., and the chair of the Division of Epidemiology, Department of Health Sciences Research. She is also very active in Mayo's Center for Clinical and Translational Science. She has established herself as an outstanding investigator in the field of mild cognitive decline impairment and dementia and has authored or co-authored more than 130 peer-reviewed publications. Her work is widely received and acknowledged nationally and internationally. She has been a mentor to numerous graduate students, research and clinical fellows, and junior faculty. She is greatly respected in her profession, and is an engaged member of the Rochester community.
The awards will be presented at the college's graduation and honors reception on May 15.