A quest for clean water
Published on July 31, 2015
CPH faculty member Kelly Baker studies the cascade of health issues connected to water, sanitation, and hygiene.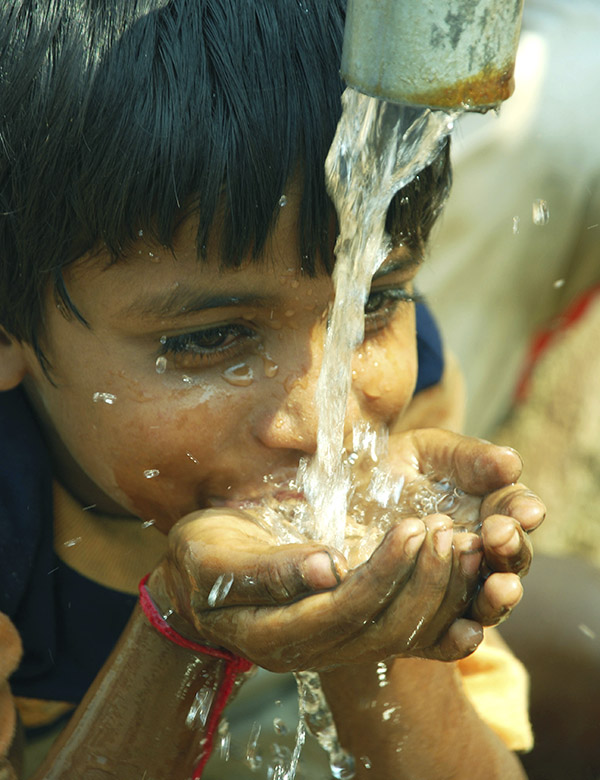 Water has been a consistent theme running through Kelly Baker's work, one that has led her from her home state of Oklahoma to California, Mexico, India, Ghana, and elsewhere around the globe.
"I've always been a bit of a vagrant," says Baker, who joined the College of Public Health in 2014 as an assistant professor of occupational and environmental health. "Even before getting into global health work, I traveled a lot."
After completing her undergraduate studies in biology and ecology, Baker moved to California intending to earn a PhD in oceanography.
"I wound up a bit disillusioned with the potential for career success in that field," says Baker, who took time to rethink things. "I'd work then travel – typically into Mexico and Ecuador – and I settled on the concept of public health because it tied into a lot of the problems I observed in my travels."
Baker then attended the University of Maryland-Baltimore, where she completed a PhD in microbiology and immunology.
"I started off studying bacterial pathogenesis and molecular diagnostics," Baker says. "It was very bench-based work and I enjoyed it, but I realized it wasn't where my interests were. I wanted to do fieldwork."
Field Experience
After Baker graduated, she was offered a fellowship with the University of Maryland's Global Enteric Multicenter Study (GEMS), one of the largest, most comprehensive studies of childhood diarrheal diseases ever conducted in developing country settings.
"My role was the environmental component of the study – understanding how water sanitation and hygiene affected a child's odds of diarrhea," Baker explains. "In Bangladesh, I designed questionnaires to understand the practices specifically related to water quality in the home or to hand washing. I collected environmental samples, and identified and measured how much contamination was in these samples. That was really my introduction to a lot of different disciplines, from field epidemiology to environmental microbiology to behavioral data collection methodologies.
"It resonated very strongly as the pathway I wanted to go in," Baker continues. "In low-income countries, people are exposed over time to many different organisms. For me, improvements in fundamental environmental health offered a panacea against disease spread. You could prevent exposure to lots of different things over time, and, hopefully, prevent a child from ever getting to the point where they would have diarrhea or be malnourished from it."
Baker's next stop was Accra, Ghana, where she worked as an in-country investigator for the Emory University-based SaniPath study, an assessment of exposure to human waste in low-income urban environments. That experience in Ghana helped inform Baker's current work in understanding the relationship between water and contamination.
"Water is a means by which we consume contamination, such as through drinking water or accidentally swallowing water while swimming," Baker says. "But water is also is a mechanism by which contamination is introduced into the environment. For example, at an open defecation site, water can move beyond one centralized location and wind up contaminating a much broader area and exposing a broader population. It all leads back to containment of waste being a really important component of preventing the disease cycle from occurring again."
Understanding Exposure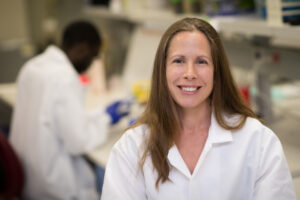 Baker's experience strengthens the College of Public Health in several areas, says Peter Thorne, CPH professor and head of occupational and environmental health.
"We're pleased to have Kelly's expertise in water quality, sanitation, and global public health," says Thorne. "These are important areas of environmental health where we have needed more scholarship and student mentoring. While Kelly is doing great international work, we also look to her expertise to address problems with water quality in Iowa."
Baker's current research falls into three interconnected areas. "On the exposure side of things, my lab is developing a tool that simultaneously detects and quantifies over 20 known types of microorganisms that cause diarrheal disease," Baker says. "We're going to use this tool to better understand waterborne, watershed exposure risks in a low-income country."
Worldwide, the lack of adequate sanitation facilities allows diarrheal pathogens to enter the environment, Baker explains.
"So the overall likelihood of being infected and experiencing illness is extremely high for those living in those areas," she says. "We're going to use this tool to identify the pathways by which groups of organisms spread in the environment and come into contact with people. We can use this information as a baseline for evaluating the impact of sanitation-related interventions on environmental safety and human health risks."
The research team will be conducting projects this summer in Kenya and Iowa. "While Iowa may be relatively clean in terms of human waste, there's zoonotic transmission through wildlife and livestock. Comparing the patterns we find in Iowa versus in Kenya will help us better understand what the inherent risks are in a place where there are good human sanitation systems versus a place where there are not."
Maternal and Child Health
Another part of Baker's work is exploring whether and how water and sanitation impact maternal and child health.
"We're in the process of completing a project in India where we're exploring what the patterns of sanitation use are for women across the life course, and how it impacts their health," Baker says. "In India, for a number of reasons, open defecation is rampant even where public toilets are available. For women, fear of violence is an issue."
Women's struggles to access safe, private sanitation and obtain clean water create extremely stressful mental and physical environments, Baker explains. One finding from the project is that women with poor sanitation access are twice as likely to experience pre-term birth or give birth to a low-birth-weight infant.
"The next phase of our work is to understand why," Baker says. "And not just why, but what are the downstream ramifications? Is the stress related to poor water and sanitation access something that is biologically linked to preterm birth? We want to understand what these pathways are so that we can design interventions that potentially can alleviate stressors for pregnant women."
Baker emphasizes that the impact is not just on the woman, but also the child. "We hypothesize that how and when a child enters the world is a major predictor of whether that child, two years from now, will have a higher incidence of diarrheal disease, or is more likely to be stunted (low height for age) and wasted (low weight for height). We're trying to understand that cascade — how is the disparity from poor water and sanitation access passed from mother to offspring, and what are the consequences?"
Assessing Interventions
Baker's third area of work is, as she puts it, "How do we identify effective interventions, and how do we understand whether those interventions work?"
Baker is collaborating with Safe Water Network, a non-governmental organization that partners with communities in Ghana and India to develop market-driven, financially sustainable, locally owned and managed water systems. Safe Water Network plans to conduct a heath-impact assessment, Baker explains, and her role is to help them understand when and how their programs are working.
"I have a lot of irons in the fire," Baker admits, but the passion for her work is evident. "The three parallel tracks of my work are all really engaging, and none of them really stand alone. I'm a big picture person, and I really like projects where I have collaboration with and can learn from other people."
This story originally appeared in the spring 2015 issue InSight magazine for alumni and friends of the UI College of Public Health.