Alumna Carol Ayangbile: Making a Positive Impact
Published on December 15, 2020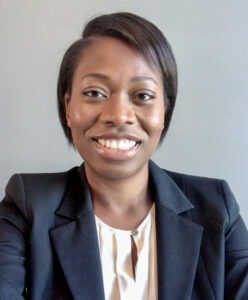 A hospital stay can be a stressful experience, but alumna Carol Ayangbile (13MHA) strives to make it as smooth as possible. Ayangbile recently started a new position as senior director of patient experience with Agilon Health. In her role, she coordinates with patients, physicians, and hospital administrators to ensure delivery of high-quality care. She also directly leads the work on CMS policies and guidelines around reimbursement based on care excellence metrics.
Although patients generally perceive they'll receive good care at most hospitals, "what makes them come back and remain loyal to the organization is how they felt they were treated and how they experienced the care they were provided," says Ayangbile, who lives in Bettendorf, Iowa, and previously worked as director of patient experience with UnityPoint Health. While there are challenges in her job, "the wins are very rewarding," she says. "Especially when you see the tremendous positive impact on patients, their families, and even the care teams!"
Ayangbile's career was sparked by a desire to help others. "I always wanted to be in medicine, but my mom became very ill and I had to forgo attending medical school so I could help her recover from several brain tumor surgeries," Ayangbile recalls. "I knew I still wanted to pursue a career in the health care field to help support the teams such as the one who walked that medical journey with my mom and my family, as well as support future patients and families. When I learned how health care administration could help me reach those goals, I chose that as my career path."
Ayangbile considers her MHA degree from Iowa "one of my most valuable assets in my career." As a graduate student, she assisted with aspects of the planning and operationalization of two University of Iowa health care facilities. "Those opportunities opened up so many doors for me early in my career and even now," she says. "This is one of the reasons I remain involved and give back to the students each year. I have a lot of pride in our program."
Supporting her community is also important. While at UnityPoint, Ayangbile developed "Medicine in the Barbershop," an initiative to address a history of distrust within the African American community regarding health care. The partnership trains barbers and beauticians to have conversations about health and how to connect clients to health care services. The project received a grant from the College of Public Health's Business Leadership Network.
Ayangbile is energized about her new role at Agilon Health, where she'll work closely with large physician groups across the nation. "Additionally, there's already work underway to address equitable health care in underserved communities, and that's something I'm really looking forward to," she says.
This story originally appeared in the fall 2020 issue of InSight magazine.