Ashida receives Carver Trust Associate Professor Advancement Award
Published on December 31, 2019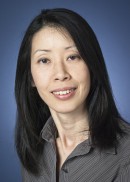 University of Iowa College of Public Health faculty member Sato Ashida has been selected to receive the Roy J. Carver Charitable Trust Associate Professor Advancement Award. The $10,000 award is intended to support the advancement of associate professors to full professors.
The award can be used for a variety of scholarly activities, such as advancing innovative research ideas, disseminating research findings, traveling to advance research partnerships, or engaging with new collaborators.
Ashida, associate professor in the Department of Community and Behavioral Health, will use the award to develop and test an online survey to assess collaboration networks of agencies involved in disaster management and aging service provision. This project will serve as the foundation for future studies and grant applications.
The award is funded by the Roy J. Carver Charitable Trust, one of the largest private philanthropic foundations in the state of Iowa. The Carver Trust supports biomedical and scientific research, scholarships, and programs addressing the educational and recreational needs of youth.