Atchison named 2016 Henry Albert Memorial Award recipient
Published on April 19, 2016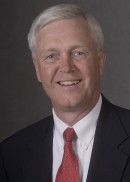 Christopher Atchison has been named the 2016 recipient of the Iowa Public Health Association's (IPHA) Henry Albert Memorial Award. Atchison is associate dean for public health practice and clinical professor of health management and policy at the University of Iowa College of Public Health. He is also director of the State Hygienic Laboratory at the University of Iowa.
The award recognizes individuals who demonstrate distinguished and exemplary leadership in public health in Iowa.
Atchison has been a public health leader in Iowa for 25 years. According to a press release from IPHA, he has given numerous presentations at national, state, and local meetings on a wide variety of public health topics.  He is a reviewer for the Journal of Public Health Management and Practice and for the Journal of the American Medical Association.  Atchison also serves on the PHAB Accreditation Committee, the ASTHO Education Committee, and is secretary treasurer for the Association of Public Health Laboratories.
The award was named in honor of Henry Albert, who served as Commissioner of the Iowa Department of Public Health from 1926-1930.