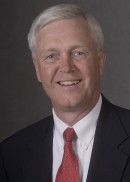 Title(s): Emeritus Clinical Professor, Director, University of Iowa Hygienic Lab
Department: Health Management and Policy
Office: S141 CPHB
Phone: (319) 384-1512
Christopher G. Atchison was Director of Iowa's Hygienic Laboratory and Clinical Professor in Health Management and Policy. He held secondary appointments in the College of Nursing and the Public Policy Center. Mr. Atchison served on the Iowa Prevention of Disabilities Policy Council, co-chaired the Partnership for Better Health, and was on the Board of the Child and Family Policy Center and on the Steering Committee for the National Academy of State Health Policy. He was also Secretary-Treasurer of the Board of Directors for the Association of Public Health Laboratories.
Mr. Atchison was Director of the Iowa Department of Public Health (1991-1999) and inaugural chair of the Iowa Child Health Insurance Program (S-CHIP). He was vice-chair of Healthy Iowans 2010, the Long Term Care Coordinating Council and was a member of the Governor's Health Care Reform Task Force and the Iowa Empowerment Board. Mr. Atchison was President of the Association of State and Territorial Health Officials (ASTHO) during the years 1994 and 1995. In 1998 he received ASTHO's Arthur T. McCormack Award for his contributions to public health practice.
Courses Taught
Contemporary Issues
Introduction to Public Health
Research Interests
Health Policy
Public Administration
Public Health
Public Health Practice
Public Health Systems Research
Background